Redskins, Shanahan Part Ways After Dismal Season
Stacy M. Brown | 12/30/2013, 11:15 a.m. | Updated on 12/30/2013, 7:49 p.m.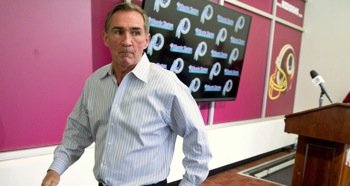 "This is personal, and I don't care what you say," said former Dallas Cowboy great Michael Irvin. "There's no way, no way at all, you sit your quarterback in his second season," said Irvin, 47.
Former St. Louis Rams and Arizona Cardinals quarterback Kurt Warner said benching Griffin damaged morale in the locker room.
"To me, this undermines your leadership role," said Warner, 42. "How do I lead my guys when you don't even let me go out on the field and go to battle with them?"
For his part, however, Griffin had only praise for his former coach.
"I just want to say that coach Shanahan has taught me a lot in the last two years of being with him," the quarterback said. "I want to thank him for drafting me and giving me the chance to live out my dreams."
Griffin also thanked coaches Kyle Shanahan and Matt LaFleur, who were also fired on Monday.
"We did a lot of great things together and I wish all three of them the best in the future," he said.
The Redskins finished this season with a 3-13 record, including losing their final eight games, the first time they've done that since 1970.
Making matters worse, the team won't be able to capitalize on gaining the second overall pick in next year's draft because of a previous trade they made with the Rams.
"It's an overall disaster and we need a complete change from top to bottom," said longtime fan Devon Frazier, 44, of Northeast.
A two-time Super Bowl championship coach with the Denver Broncos, Shanahan owns a 24-40 record with the Redskins. He's Washington's seventh head coach since Snyder purchased the franchise in 1999.
"I've had a few [bad seasons], and this is right up there with them," Shanahan said. "Anytime you're responsible for a football team and you come away with three wins it's always disappointing."