Kevin Durant Awards $150K to Three P.G. County Organizations
WI Web Staff | 7/1/2013, 10 p.m.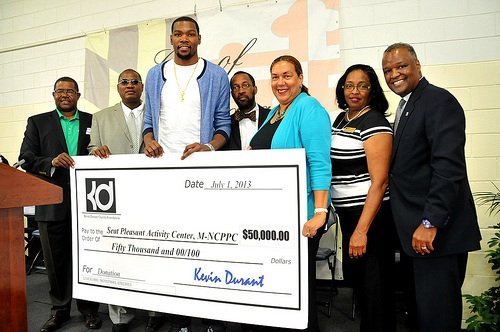 NBA superstar and D.C.-area native Kevin Durant has awarded $150,000 in grants to three Prince George's County organizations that were pivotal in his youth.
Durant returned to his Prince George's County hometown on Monday to honor the Seat Pleasant Activity Center, the Maryland Jaguars Youth Organization and the Community Kingship Coalition Inc., through his Kevin Durant Charity Foundation, which he began in order to help at-risk youths.
"Giving back and supporting kids who are in the same position that I was in while growing up is very important to me," Durant said before the event. "I realize the positive impact it has on a kid when they know that people care."
He also honored his mentor and former coach Taras "Stink" Brown, who Durant credits with inspiring and guiding him and numerous other county youths during his 20-plus years of community service.
Seat Pleasant Mayor Eugene W. Grant, who attended the ceremony, thanked Durant for the contribution to the activity center.
"The center was a home away from home and gave Kevin the opportunity to develop his skills and talent," Grant said.