Sports Briefs: Latta leads Mystics over Shock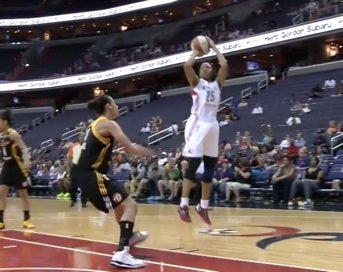 Ivory Latta led the Washington Mystics with 15 points as the team posted their widest margin of victory in nearly three seasons in an 84-61 victory over the Tulsa Shock on Sunday at Verizon Center.
Monique Currie added 13 points, Crystal Langhorne had 11, and Matee Ajavon scored 10 for the Mystics, which broke a five-game losing streak with its second straight win over Tulsa this year. It was Washington's first win by more than 20 points since beating Tulsa 87-62 on Aug. 1, 2010.
SOCCER
Brazil downs Spain to capture Confederations Cup
Fred scored two goals and Neymar added another as Brazil shut out world champion Spain 3-0 to capture the Confederations Cup on Sunday at the Maracana Stadium in Rio de Janeiro, while protesters clashed with riot police outside.
Less than two minutes into the match, Fred gave Brazil a 1-0 lead and just before halftime, Neymar made it 2-0. Fred scored his fifth goal in five matches early in the second half to seal the win for Brazil.
The victory for the host country was surprisingly easy. Ten minutes into the second half, Sergio Ramos missed a penalty kick, sending his shot low and wide. Spanish defender Gerard Pique was disqualified with a red card when he flagrantly fouled Neymar with 22 minutes remaining.
GOLF
Park wins U.S. Women's Open Championship
Inbee Park won the 2013 U.S. Women's Open in Southampton, N.Y., on Sunday, making her perfect in the year's first three major tournaments. No player had ever won the first three majors in a year with at least four.
Park, the world's No. 1 player, finished 8 strokes under par to win by four shots. Entering Sunday with a four-shot lead, she posted a 2-over 74 in the final round but birdied the 9th and 10th holes to keep competitors at bay. Difficult weather conditions kept anyone from posing a serious challenge, as only three others shot under par for the tournament.
Fellow South Korean I.K. Kim also shot 74 on Sunday to finish second — the second major tournament this year in which she's been the runner-up.
Park has already won six tournaments this year.