Wiz Continue Youth Movement With Drafting of Georgetown's Porter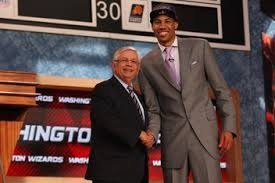 The Washington Wizards front office experienced some nervous moments Thursday prior to making its selection in the 2013 NBA Draft.
The organization coveted Georgetown sophomore Otto Porter, but didn't know if he would still be available at pick No. 3.
But after Cleveland surprisingly chose UNLV forward Anthony Bennett and Orlando took guard Victor Oladipo of Indiana, the Wizards moved quickly to take the 6-foot-8-inch Porter, a versatile small forward who should fit nicely with former first round picks John Wall and Bradley Beal.
Washington also dealt its two second-round picks to Philadelphia for the rights to former Georgia Tech guard Glen Rice Jr., who spent last season in the NBA's D-League after he was kicked out of Georgia Tech's program following several suspensions.
But the crown jewel of the Wizards' draft, of course, is Porter, who was named Big East Player of the Year after leading Georgetown with 16.2 points and 7.5 rebounds per game last season.
Washington could have chosen nearly anyone, including Alex Len of Maryland or Ben McLemore of Kansas. But they had already decided that Porter would be their choice if he was available.
The Wizards believe that Porter has a good work ethic and is a team player who can do several different things on the court. He can defend several positions, and is a young player who could be with the organization for a very long time.
Porter is very comfortable in Washington, and he's quite familiar with the Wizards' home court, having played on it the past two seasons with the Hoyas.
The Wizards have now filled three key positions — Wall at point guard, Beal at shooting guard and Porter at small forward — with young, solid players to build the team with in the future.
Washington has not made the playoffs in the last five seasons, but they may have taken a major step toward snapping that streak by adding Porter. All things considered, the team should be very pleased with its 2013 NBA draft.