P.G. County Exec Baker Running for Re-Election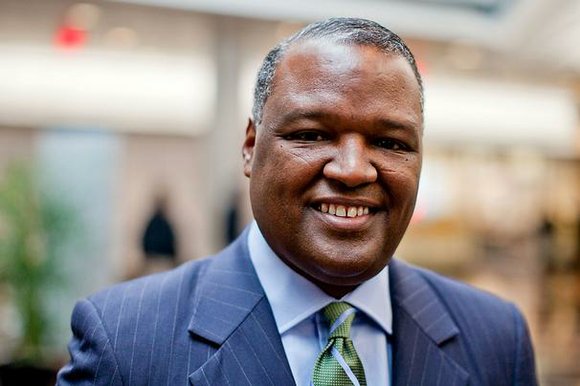 It's nearly a year before the first ballot will be cast, but Prince George's County Executive Rushern L. Baker III has put potential rivals and the electorate on notice – he wants to keep his job.
Baker announced his intention to seek re-election on June 20 at a fundraiser at the Newton White Mansion in Mitchellville. The event attracted an audience of nearly 500 supporters who paid $30 to $1,000 for a barbecue dinner that raised $120,000 for Baker's coffers.
"We've begun to turn Prince George's around, now it's time to turn the progress into lasting results," Baker said at the event. "We are no longer a county stuck in neutral, but a county set to soar."
Baker spoke of the progress made during the past four years citing ethics reform, decreased crime, $4 billion new development potential, reorganized government and work being done for a new regional medical center. He also mentioned improving quality of life in neighborhoods, investments in economic development and changes with the public school system as areas in which progress is being made but more is needed.
"Opportunity is at stake," said Baker. "I want to be your county executive for four more years to make sure we finish what we've started. Anytime I catch myself tempted to rest on my laurels or stand on the foundation of achievements we've managed thus far, all I have to do is go get my hair cut or visit the corner store, or answer a call from some of you to realize we have a long way to go before reaching a utopian Prince George's County."
A who's who of top Maryland officials turned out for the announcement including Sen. Ben Cardin and Congressman Steny Hoyer as well as Gov. Martin O'Malley, Maryland Attorney General Douglas Gansler and Maryland Senate President Thomas V. Mike Miller Jr. State's Attorney Angela Alsobrooks and Prince George's County Council Chair Andrea Harrison also gave supportive remarks.
Baker was joined at the fundraising by his three children and his wife Christa Beverly-Baker, who has been diagnosed with early onset Alzheimer's disease.
"On the most difficult days, when I think my burdens [are] too much, I am inspired and encouraged by how courageously you face yours," said Baker to his wife. "On my best days, I am simply remembering and manifesting the many moments when you provided counsel, motivation, and support. I am blessed to have you as my wife, and Prince George's County is blessed to have you as its first lady."
David Byrd, Baker's campaign strategist, said research, fundraising and strategy consultants have been retained by the campaign. He estimates about $1.2 million will be needed to run a competitive race.
The primary is June 24, 2014.
Byrd said he doesn't expect there will be much campaign activity over the summer. There are no immediate plans to open a campaign office and hire staff, although interns and a large number of volunteers who previously supported Baker will be deployed to assist with outreach efforts, Byrd said.
Baker also said at the fundraiser that some of his critics complain he's trying to do too much, too fast.
"You should put your career or your politics first," he said is what he's been told. "Don't do anything controversial. Don't take any risk."
However, Baker said he disagrees.
"To them I say I didn't seek the office of county executive, because I needed a job," said Baker. "I sought the office to make sure the job got done."