Black Male Academic Problems Explored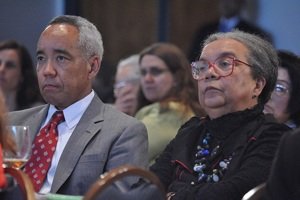 One of the nation's leading advocates for children along with a principal of a well-respected policy research center recently convened a conference on how to prepare young black males for college, the workforce and life.
Marian Wright Edelman, president and founder of the Children's Defense Fund in Northwest and Michael Nettles, senior vice president of the Educational Testing Service (ETS), a policy evaluation research center in Princeton, N.J., brought together hundreds of educators, children's advocates and academicians from across the country for a one day symposium at the National Press Club in Northwest on June 24.
The group discussed ways to close opportunity gaps for the country's young black males ages 15-19. Edelman said that addressing the educational and academic problems of young black males is critical.
"Ensuring a quality education for all children is the unfinished business of the civil rights movement," said Edelman, 74. "American schools are failing young black men, leaving them unprepared for college and career opportunities. Schools with 90 percent of more students of color spend $733 less per student per year than schools with 90 percent of more white students."
She stressed that the country cannot afford to lose talented students and future leaders because of its failure to act. Nettles said that the statistics on young black male graduation rates are abysmal.
"Only 52 percent of black males graduate from high school in four years compared to 78 percent of white males," he said. "One in four African-American students attends a dropout factory – a high school where the senior class consists of less than 60 percent of the freshmen who enrolled four years earlier."
The conference also included panels where experts brainstormed and talked about topics such as establishing safe learning environments, providing rigorous high-quality instruction, building skills and capital for college and career success and moving toward success. African-American male leaders in the 15-19 age groups talked about their experiences in school and what needed to be changed to make the black male want to be more academically engaged.
Ivory Toldson, an associate professor at Howard University and the editor-in-chief of The Journal of Negro Education, said that young black males sometimes have to deal with negative labeling by society.
"Black men are often said to be an endangered species," said Toldson, 39. "The distinction, it seems, only applies to black males and to animals. We may be a dying breed but if you look at the statistics of white males, you will see that they are dying also."
Toldson said that often black men are subject to a military-style environment in schools and he doesn't think that's necessary.
"We have to learn to separate the kid from the statistics," he said.
Judith Browne Dianis, co-director of the Advancement Project in Northwest, agreed with Toldson about the environment that many young black males face in schools.
"Schools either look like prisons or they are managed by prisons," Dianis said. "Young black males are often disciplined for showing assertive behavior, no matter how benign. In some schools, a black male will get suspended from school three-to-four days for talking back to the teacher and 10 days for fighting."
Dianis said that in some cases, fighting in school has led to black males being arrested for disorderly conduct. She said that in Florida, black males make up 12 percent of the student population but comprise 45 percent of school-based arrests.
"Young black males and young white males can do the same thing, but there are truly different results," she said.
Various speakers said that young black males need mentoring, higher academic expectations from themselves and their teachers and a more sensitive school environment. Edelman agreed with the majority of the speakers. However, she said action must be taken immediately to help young black men.
"The greatest threat to America's economic and military security comes from no foreign enemy but from our own failure to invest in the education of our children," she said in her closing remarks.
"Seventy-five percent of 17-to-24 year olds are not eligible for military service due to literacy levels and health-related problems. It is time that we close the gap between what we know works to educate our black male teens and what we do."