Community Profile: Roger Newell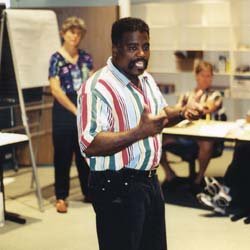 Roger Newell is the strategic campaigner for the District-based International Brotherhood of Teamsters, North America's most powerful union.
Having been involved in labor and community organizing for more than 45 years, the 62-year-old D.C. native also serves as board chairman of D.C. Jobs with Justice, a national network of local coalitions that bring together labor unions, faith groups, community organizations, and student activists to fight for working people.
With his primary focus aimed at making life better for working families in D.C., Newell says "that means ensuring that those families have the wages and benefits that are necessary to be able to live in the costly environment of the nation's capital."
WI: What do you like most about D.C.?
RN: It's got to be the people. My parents came to D.C. to escape the oppression in the South, and I think that people here have shown a great deal of loyalty to the city. Folks stayed after the civil rights riots. People stayed through the economic downturn. So, it's the resiliency of the people who live within the borders of this great city, that I like most.
WI: What do you like least about D.C.?
RN: The failure of elected officials and bureaucrats to consider the needs of working families here in the District, when they make their policy and budgetary decisions.
It's the fact that we have working families being pushed out of the city while elected officials and bureaucrats are laying out a welcome mat for new folks to come in that bothers me. We have people that are being systematically affected, by being driven out to the proverbial Ward 9 — which is Prince George's County — while people who stayed here to help keep the city afloat, are being basically slapped in the face.
WI: What's the latest book you've read or are currently reading?
RN: It's a book by Bill Fletcher called, "They're Bankrupting Us," which talks about the myths surrounding labor unions and how people are opposed to working families coming together to fight for their rights.
WI: What is your favorite thing to do at the end of the day?
RN: It's pretty much to just enjoy the city. There's a lot here from U Street in Northwest to H Street in Northeast, the traditional neighborhoods and of course, the people.