D.C. Political Roundup: Ward 5 Democrats Elect New Officers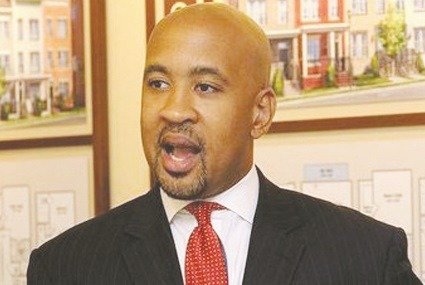 The Ward 5 Democrats recently elected its new slate of officers for the 2013-2015 term. The election took place on June 24 at the Michigan Park Christian Church in Northeast. Silas Grant won his election as the chair of the organization and he's ready to go to work.
"As the chair of the Ward 5 Democrats, it will be my job to raise the visibility and awareness of the organization throughout the ward as a whole," said Grant, who lives in Northeast. "Ward 5 residents overwhelmingly support the Democratic Party. However, we aren't in a position to take that for granted."
Grant, a former advisory neighborhood commissioner, said that fundraising and engaging the ward's residents are important to the success of the Ward 5 Democrats.
The other winners are: Ronnie Edwards, first vice chair; Timothy Thomas, second vice chair; Jon Mandel, third vice chair; Adrian Jordan, treasurer; Lateefa Williams, recording secretary; Debra Truhart, assistant recording secretary; Grace Lewis, financial secretary and Jeralyn Cave, corresponding secretary.
Mark Jones, the Ward 5 representative to the District of Columbia State Board of Education, served as a co-chair of the nominating committee that conducted the election. Jones said that the election went smoothly.
"We conducted the election with integrity," Jones said. "There were no major issues for the most part even though a few people complained about the timing of the vote. We made it clear to everyone that voting had to stop at 8 p.m."
Jones said that 247 ballots were cast for results.
The Ward 5 Democrats is considered one of the most active Democratic clubs in the city. The club's endorsement carries weight in ward and citywide elections and its political activities, such as candidate forums, are well-attended.
D.C. Council members Kenyan McDuffie (D-Ward 5) and Anita Bonds (D-At Large), Vincent Orange (D-At Large) and Muriel Bowser (D-Ward 4) attended the meeting. Bonds, 68, and Orange, 55, are residents of Ward 5 and Bowser, 40, grew up in the North Michigan Park section of the ward.
Norton Rebukes Freshman Republican
D.C. Del. Eleanor Holmes Norton is fighting efforts in the U.S. Congress to restrict reproductive rights for District women and to exempt active members of the military from its gun laws. Now, she's trying to stop a freshman Republican representative from banning the city from using its automated traffic enforcement systems.
U.S. Rep. Kelly Bentivolio (R-Mich.) is circulating a bill that would prohibit the District – and no other jurisdiction or state – from operating its red light and speed cameras. He is seeking co-sponsors in the House for his legislation. Norton, 75, is livid at what Bentivolio is trying to do and she vows to stop him.
"Representative Bentivolio has been in Congress barely six months, but, with this bill, he has already violated his professed support for small government and local control of local affairs," the delegate said. "Traffic laws here and everywhere in the United States are local safety matters. In the District of Columbia, like everywhere else, local traffic laws are written by local elected officials, not members of Congress who are unaccountable to D.C. residents."
Norton said that if Bentivolio or his staffers received a traffic citation in the District, they should pay it. She said that Bentivolio is wrong if he thinks he can use the city for his political purposes.
"We will fight each and every congressional attack on our right to self-government, especially against congressional bullies who betray their own well-known views on federal interference in local matters by trying to use the big foot of the federal government against our local government," Norton said. "If Representative Bentivolio wants to write local traffic rules, he should resign from Congress and run for local office in Michigan."