Ivy League Schools Attract D.C. Students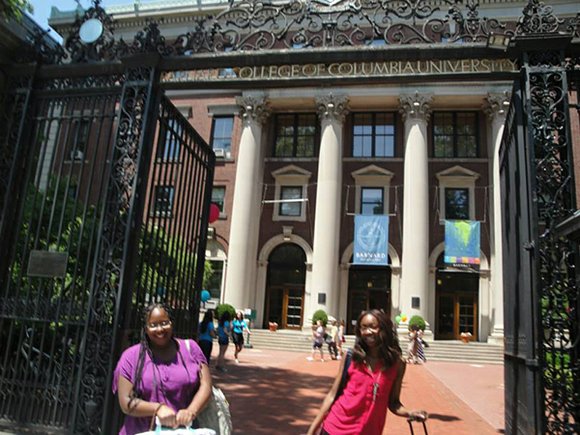 Every year, students from across the country dream of being admitted to elite colleges and universities such as Smith College in Northampton, Mass., and Stanford University in California.
But for 47 District of Columbia high school students, such dreams – even if short-lived – have become a reality.
"I just returned from two weeks of study at Boston University," said 17-year-old Tanazia Matthews, a rising senior at Thurgood Marshall Academy in Southeast. "I had a wonderful learning experience – I studied business and infectious diseases. I got a chance to see what college life is like and [had] an opportunity to cultivate new friendships with students from other countries like China, Guatemala and Turkey," said Tanazia, whose short program at Boston University allowed her to return home in time to participate in another summer academic project.
"This was definitely a dream come true for me, because otherwise, I might not have considered attending an Ivy League school," she said. "Now, I very much look forward to enrolling at Boston University after I graduate."
Tanazia and other students, who attend District of Columbia public and charter schools, are participants in the Office of the State Superintendent of Education (OSSE) Scholars program.
The initiative, which is open to sophomores and juniors with a minimum 3.0 grade point average (GPA), launched in spring 2012 with 12 students who attended four colleges – including Carnegie-Mellon University in Pittsburgh, Penn.
"The first program was so successful that schools began contacting us about participating," said Gregory Meeropol, OSSE assistant superintendent for post-secondary and career education. "The goal of our program is to expose academically-motivated, low-income students from the District to tier-one colleges across the country, that they hadn't [previously considered]," he explained. "It's our hope that the schools will be so interested in our students, that they not only admit them when they graduate, but will provide them with a generous financial aid package as well."
This year's program, which is tuition-free for students, is underwritten by OSSE and the U.S. Department of Education's "College Access Challenge" project, and involves a dozen of the country's top-tier institutions of higher learning. The schools also provide an opportunity for college-bound students to earn college credits.
Fifteen of the students are from Ward 8 and nine live in Ward 7.
Three of the Ward 8 students – Daniel Spruill (Friendship Collegiate Academy), Tai'lon Jackson (Ballou Senior High School) and Stewart Gray (Thurgood Marshall High School Academy) – are attending Stanford University at a cost of $10,000 each, for which Stanford is paying half.
In addition, Kaila Warner-Jackson, from Phelps Senior High School in Northeast, is attending Smith College. All of the participants are spending up to eight weeks, immersed in courses that range from sociology and electrical engineering to neurobiology and Elizabethan literature.
Aside from Boston University in Massachusetts and Stanford University and Smith College, the other participating schools are Barnard College and Columbia University, both in New York City; Cornell University in Ithaca, N.Y.; Duke University in North Carolina; Northwestern University in Illinois; Syracuse University in New York; Emory University in Atlanta; Harvard University in Cambridge, Mass.; and the University of Pennsylvania.