McDuffie Delivers State of Ward 5 Address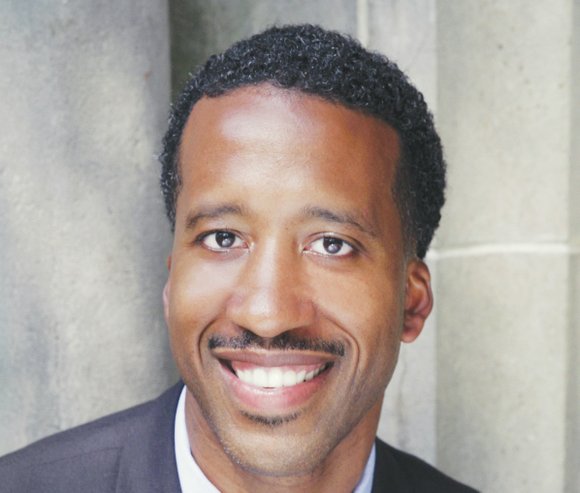 A junior member of the D.C. Council trumpeted his efforts in community engagement, and economic development during his maiden ward address.
D.C. Council member Kenyan McDuffie (D-Ward 5) delivered his first "State of Ward 5 Address" on June 25 at Luke C. Moore Senior High School in Northeast before 200 people. McDuffie, 37, said that since his election last year, he's made it a priority to reach out to residents.
"I have made it my mission to engage all of the residents as we work together to improve the ward," he said. "I am encouraged by how much we have accomplished in the past year."
McDuffie spoke for 50 minutes about his priorities for Ward 5, which is primarily located in the northeast quadrant of the District with a swath in Northwest. The ward is home to many well-established African-American neighborhoods but is experiencing gentrification in areas such as Brookland, Rhode Island Avenue, North Capitol Street and Fort Totten.
McDuffie, who is the chairman pro tem of the D.C. Council, said that community outreach is a key component when it comes to improving the ward.
"Since 2012, 10 community engagement sessions have been conducted," he said. "My staff and I are working hard to engage all of the residents of the ward and we want to engage you in your community."
McDuffie said that he and his staff do their utmost to attend advisory neighborhood commission and civic association meetings to find out the concerns of his constituents.
The council member talked about a number of task forces that he has instituted since taking office. Issues regarding senior citizens can be addressed through his Ward 5 Senior Advisory Council, he said.
Small businesses can work through the Ward 5 Small Business Advisory Council while matters related to industrial land use can be worked out through the Ward 5 Industrial Land Transformation Task Force. Flooding problems in the Bloomingdale and LeDroit Park areas are addressed by the Bloomingdale and LeDroit Park Flood Prevention Task Force.
Economic development in Ward 5, McDuffie said, is moving along smoothly with plans for the Rhode Island Avenue, Bladensburg Road, N.E. and North Capitol Street corridors. He said he's encouraging small brewing and distilling businesses to set up shop in the ward. He believes they will thrive due to tax breaks and other incentives.
However, on the issue of medical marijuana dispensaries, he remains adamant.
"The way things are set up now, five of the six dispensaries are in Ward 5 and that is not right," he said. "I am offering legislation that would limit the number of dispensaries that can be in one ward. I strongly support the use of medical marijuana but I think that the locations of the dispensaries need to be balanced throughout the city."
While the council member touched on most of the key issues in his ward, he didn't talk about the controversy over the development plans of McMillan Park in Northwest. Thirty members of the audience held up signs that said, in essence, that a different plan is needed for the development of the historic site during the address.
When asked about McMillan Park in the question-and-answer session by resident Theodore Bush, the council member said that that 3,000 construction jobs and 3,000 permanent jobs will be generated by the development. When he said this, several members of the audience whispered "No, No."
Bush, who has lived in the McMillan Park area since 1950, didn't appreciate McDuffie's response.
"He did not answer my question," said Bush, 70. "He and [D.C. Mayor] Vincent Gray cannot be trusted on this project. In terms of his time in office, I cannot see what he has done."
Bush said that he's determined to see that McDuffie and Gray are voted out of office in 2014.
However, Herman "Rip" Preston, disagrees with Bush's assessment of McDuffie.
"The message that the council member delivered is long overdue," said Preston, 64. "We still have a ways to go in Ward 5 but Kenyan McDuffie is out in the ward and he is getting things done."