THE RELIGION CORNER: 'Nobody But God'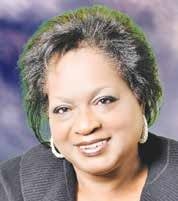 This week's column revolves around my friend and sorority sister the Rev. Dr. Unnia Pettus, who penned the book, "Nobody But God: A Journey of Faith from Tears to Triumph." She's releasing her second book later this year.
Pettus, continues to do God's work – her ministry is thriving – and she waits patiently for better days.
Despite, her many years of chronic health problems, coupled with domestic violence, she got up and walked away from a wheelchair and volunteered to campaign for President Barack Obama. She serves as an inspiration to all of us, and I thought I'd share her story with you.
After being paralyzed for months, Pettus, through the grace of God, miraculously emerged from her wheelchair and embarked upon a mission – the pain didn't matter – although, she used a cane – she wanted to make sure that the president was re-elected. From my vantage point, she was back to her old self, prior to her stroke.
Pettus has 23 years of public relations, marketing, crisis communications, advertising, and grassroots organizing experience. She's served as the press secretary to former D.C. Mayor Sharon Pratt and has worked as the strategic communications director for the Service Employees International Union. She was also appointed as Washington, D.C. Metropolitan area press secretary for the 2000 Democratic Presidential Campaign for Vice President Al Gore and Sen. Joe Lieberman (D-Conn.).
As founder of Pettus & Associates, a public relations and marketing firm, she serves as an adjunct professor teaching public relations and entrepreneurship courses at her alma mater, Howard University, in the School of Communications. Her cognate coursework for her doctoral program completed at Howard University's School of Divinity with a dissertation, examined the role of clergy across seven historically Black church denominations in Washington, D.C.
A top-ranked college of Journalism graduate from the University of Maryland at College Park, Pettus is a graduate fellow with her Ph.D. in Mass Communications as of May 2003.
Seven years ago, she founded the Nobody But God Outreach Ministries, with the purpose of providing support services and counseling for victims of domestic violence, survivors, and their families.
That same year, her spiritual memoir, "Nobody But God: A Journey of Faith From Tears to Triumph," was released nationally. The book received prominent national media attention from news organizations that included CNN, Radio One, NNPA newspapers, and The Washington Post. Completing her second book in the series, "Nobody But God: My Testimony of Faith, Kept By His Grace," to be released this summer, is a chronicle to her testimony of faith. It will include a message from her mother, and long-time health caregiver, Ms. Beverly N. Hudgens, regarding her insight on how God has used "the good and the bad to worked together for His good" in both of their lives.
She was appointed to work as a service coordinator by the 57th Presidential Inaugural Committee (P.I.C.) for Obama for America, D.C. Campaign Director, Pettus served as the Faith Service Coordinator for the National Day of Service "Interfaith City-Wide Food Drive, under the leadership of Kouri Marshall, an official P.I.C. event held at Trinity Washington University. The day included an interfaith service, and U.N. Ambassador Susan Rice and Agriculture Secretary Tom Vilsack participated in the event.
At her home church, she serves as Associate Minister of Independent Church of God in Washington, D.C. under the leadership of Pastor Claritha A. Stewart.
Pettus was invited to become a charter member of the first time ever, Religious Council of the D.C. Democratic State Committee. They represent all denominations. A member of Delta Sigma Theta Sorority, Inc. since 1990, she will celebrate with the Delta's at the Centennial Conference this month.
Hats off to you, my sistah, as "Nobody But God" continues to keep you, as you go from trials to triumph. Congratulations!
Lyndia Grant hosts a radio talk show, Think on These Things, on WYCB 1340 AM, Radio One, Fridays at 6 p.m. She speaks all across the country, visit her website at www.lyndiagrant.com, send comments to lyndiagrant@gmail.com, or call 202-518-3192.