Washington Informer Receives Top Honors
WI Staff | 7/2/2013, noon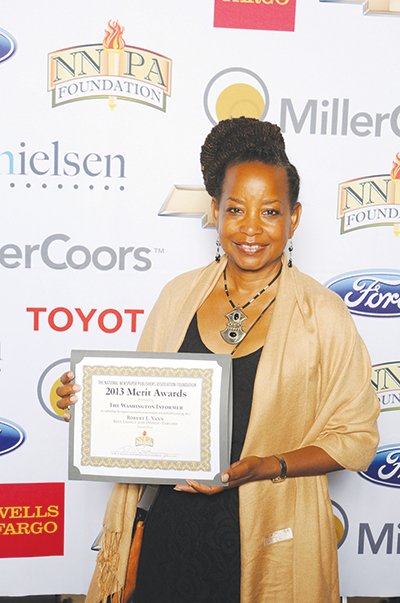 The Washington Informer was among several newspapers to receive top honors during the National Newspaper Publishers Association (NNPA) Merit Awards ceremony, held June 26-29 at the NNPA's annual convention in Nashville, Tenn.
Each year, the association of more than 200 African-American newspapers located across the country and the Virgin Islands, recognizes member publications in 16 categories. The Washington Informer received second place in two of those classifications: Best Use of Photography for a Tabloid and Best Layout and Design for a Tabloid.
"It is an honor to be recognized for the work we do each week at The Washington Informer," said Publisher Denise Rolark Barnes. "And to stand in the company of so many great publishers is proof that the black press is still holding on strong to its mission while continuing to produce excellent publications."
Also during the convention, Rolark Barnes was elected to the NNPA Board of Directors as an at-large member as well as president of NNPA Region II, which covers the northeast section of the U.S. and Kentucky.
The St. Louis American, Miami Times and the Houston Defender received trophies for General Excellence, along with other publications which earned honors for best column writing, church page, lifestyle section and feature story, to name a few.
The NNPA Foundation also recognizes college students from across the country for their efforts in the field of journalism. This year, Merit Awards were bestowed on five Nashville-area college students who received NNPA scholarships to assist them with their educational needs.
In addition, the newly-established Front Page Award – which recognizes individuals for continued dedication and service to the black press – was presented to columnist, commentator and media personality Roland Martin and longtime Miller Coors executive Larry Waters.