Obama Ends Trip to Africa With Sense of Optimism
WI Web Staff | 7/3/2013, 4 p.m.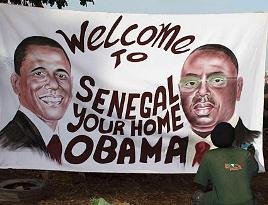 President Obama ended a three-nation trip through Africa on Tuesday with a push for partnership at a Tanzanian power plant, coming away with a sense of optimism about the continent's future.
Obama wrapped the weeklong trip with a speech at the Symbion power plant at Ubungo, which had been shuttered until the Tanzanian government reopened it with U.S. assistance. He called the effort "just the beginning" and that such joint ventures spur job creation and exports in the United States.
Pitching a $7 billion U.S. effort to provide electricity to six countries, Obama, who cited fostering U.S. trade and investment in the continent as one of his objective on the trip, said roughly 70 percent of Africans lack access to reliable electricity, and the U.S. can provide help.
"The first step that we're going to take is to try to bring electricity to 20 million homes and businesses," he said.
Obama, who made stops in Senegal and South Africa, also joined former President George W. Bush on Tuesday at a memorial in Dar es Salaam, the site of the 1998 terrorist bombing at the U.S. Embassy that killed 10 and injured dozens of others.
During his stay in South Africa, Obama was unable to meet with former President Nelson Mandela, who has been hospitalized since June 8, though he briefly met with members of Mandela's family.
"I expressed my hope that 'Madiba' draws peace and comfort from the time that he is spending with loved ones," Obama said after the meeting. "I also reaffirmed the profound impact that his legacy has had in building a free South Africa, and in inspiring people around the world — including me. That's a legacy that we must all honor in our own lives."
While in Senegal on Thursday, Obama toured Gorée Island and the Maison des Esclaves, a museum and memorial dedicated to the Atlantic slave trade.
"It's always powerful for me to visit countries outside of the United States generally, but obviously for an African American, and an African American president, to be able to visit this site, I think gives me even greater motivation in terms of the defense of human rights around the world," he said.
Obama's trip may not be enough to change the United States' attitude towards Africa, however, former New York Times writer Howard French said.
"A trickle of articles in the American press has belatedly recognized Africa's strong economic growth," said French, who lived in West Africa from 1979 to 1986 and covered Central and West Africa as a journalist. "Some of them have touted a new African middle class, which by some measures is larger than that of India."
French lamented Americans who stereotype the continent as place of war and strife.
"For this reason, and because we cannot get over a long-running sense of Africa as a place to be aided, we are ill-equipped to see or appreciate the opportunities that Africa offers."