In the Fast Line: Life as a NASCAR Intern
Kelsey Nelson, Special to The Informer | 7/7/2013, 12:12 p.m.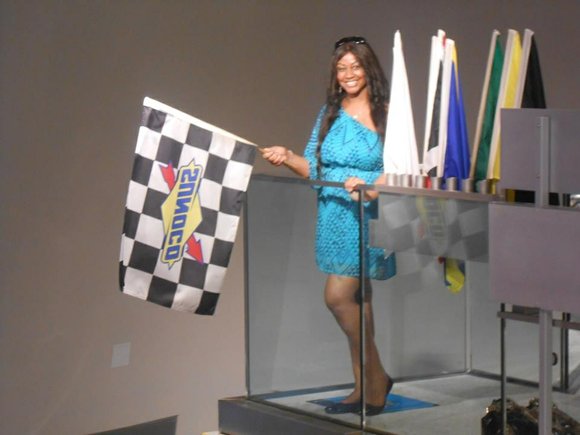 Two suitcases, a hundred dollars, a promise and a dream. This is all I had flying into the Charlotte Douglas airport as I prepared to explore an unknown territory. Just two days before, I had been notified I had been selected as a 2013 NASCAR Diversity intern. In the midst of my finals at the University of Maryland-College Park, I had to balance relocating, passing my finals during a 20 credit semester and preparing myself to work for a sport I did not know much about. But, all of the challenges that came with moving to Charlotte were worthwhile because I had the promise of interning with the biggest motor sport in the world; NASCAR.
Stepping off the airplane and into Charlotte, North Carolina for the first time I made my way to the Charlotte baggage claim. For about two hours I sat waiting, to meet the other young adults who would be taking this internship journey with me. Glancing around the airport, with my phone dead I begin to get nervous. Here I sat in a new place, having just finished my junior year, enrolled in a 10-week internship with NASCAR with people I didn't know. But, what is life if you don't take chances when given an opportunity?
As a young African-American female, I know the challenges and stresses of not being given an opportunity. As a young entrepreneuring broadcast journalist, I know first hand the lack of opportunities in the sports industry for faces like my own. I have received "the talks" about if this is a career really worth pursuing and if it is a realistic career. Then on top of that, add my ambition to to go to law school so I can become a sports lawyer/agent. I am defying all the odds. I really love having a career people don't expect you to excel in because then each milestone you reach makes it even more important. You can imagine the looks I received when I said I'd be interning for NASCAR. Some people looked as if they had seen a ghost. But, with all the negative came the positive. I had the backing of family and friends who were proud to see I had "made it" and was conquering yet another pivotal internship to help build my career. This is why I always carry a smile on my face because I know, no matter what, I know I have support.
But, what makes this internship even more unique was that this was a "diversity' internship, so I knew, that new relationships I built with others in the internship program would come from people with similar backgrounds. As I met the group of interns who flew into Charlotte, we immediately clicked. We were all from different backgrounds but shared a common and same purpose; a love of sports and a passion to work in the sports industry,
My internship began with NASCAR orientation.From bowling in uptown Charlotte, to meeting Danica Patrick, the NASCAR orientation session for interns was a great experience. Beyond meeting greats like Kyle Petty and up and coming Darrell Wallace Jr. As NASCAR intern, we were treated like V.I.P. guests, as we entered the Charlotte Motor Speedway to attend NASCAR's trucking world series to the NASCAR All-Star race. We got to see behind the scenes of NASCAR, with our Pit passes and were able to be in the midst of the NASCAR action.