Historic D.C. Church Celebrates 175th Anniversary
WI Web Staff | 7/8/2013, 2:55 p.m.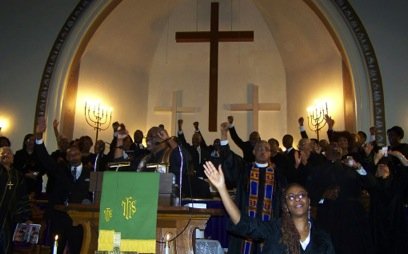 The historic Metropolitan African Methodist Episcopal Church will celebrate its 175th anniversary on July 21 with a commemorative service and celebration at 10 a.m.
The church, located few blocks from the White House at 1518 M Street NW, was founded in 1838. President Barack Obama and the first family have worshiped twice at the Metropolitan, including the Sunday of his second inauguration.
Samuel Lawrence Green Sr., the 125th elected and consecrated bishop, calls the church, which is designated as an historical site, a "proponent of change."
Throughout the church's storied history, it has served as a haven for runaway persons who were enslaved, hosted the funeral of Frederick Douglass and has featured prominent persons through the years, including Douglass, Paul Lawrence Dunbar, Mary McLeod Bethune, Eleanor Roosevelt and Jesse Jackson.
The church also founded the Bethel Literary and Historical Society, which enriched the civic, cultural and intellectual lives among African American citizens.
Green will be the featured speaker at the event. The Rev. Dr. Ronald E. Braxton, the senior minister, said the public is invited to the service and celebration at the church, which was recently was awarded a $90,000 federal grant to restore its stained-glass windows.