Murray Ends Wimbledon Drought for Brits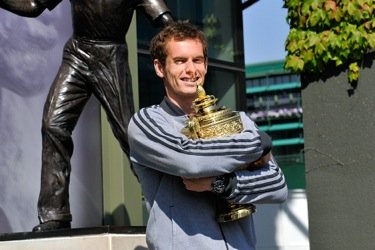 Finally, the wait is over for Andy Murray and Great Britain.
On Sunday afternoon at the All England Tennis Club, Murray became the first Brit to win Wimbledon in 77 years with a straight-sets victory over No. 1 ranked Novak Djokovic.
This was Murray's second major title, following last year's U.S. Open, where he also beat Djokovic.
Murray, who lost in last year's Wimbledon final to seven-time champion Roger Federer, was energized by the throng of fans clamoring for the first British champion since Fred Perry in 1936. His supporters showed up in large numbers at Centre Court and erupted in celebration when Djokovic's last shot failed to clear the net.
He displayed a wide array of emotions upon his victory. He raised his hands and cried after the final point, burying his face in the grass court before high-fiving spectators and climbing into the stands to hug everyone in his box.
The final match was a stark contrast to the nail-biting semifinal matches. It took more than 20 shots to complete the first point and more than 20 minutes to finish the first three games. Djokovic trailed 0-40 in the opening game, and, though he came back to win it, he seemed to be playing catch-up for the rest of the match.
A normally focused and energetic Djokovic looked rather flat on Sunday, likely due in part to his four-hour, 43-minute semifinal match against Juan Martin del Potro two days earlier. He made 40 unforced errors, unheard of for him.
Murray, too, looked fatigued at times, but mustered enough energy to get himself through the match's critical moments. He was the steadier player through all the break points and long rallies, effectively countering Djokovic's series of drop shots to sustain his momentum.
In the final game, he lost three championship points and twice faced break point before ultimately prevailing.
The head-to-head record between Murray and Djovokic is now 2-2.