Sports Briefs: Mystics' Thibault Sets Career Wins Mark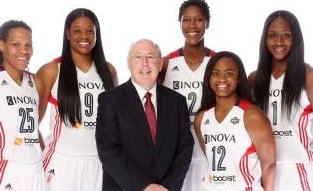 Crystal Langhorne scored 12 points as the Washington Mystics (6-6) held on to defeat the Seattle Storm 62-59 on Saturday at Verizon Center, giving head coach Mike Thibault a WNBA-record 212 career victories.
On its final possession, the Storm (5-7) missed three 3-point attempts that would have tied the game.
Thibault, whose career record is 212-140, coached the Connecticut Sun for 10 seasons, in which they qualified for the playoffs eight times and lost twice in the WNBA Finals. His most recent victory moved him past Van Chancellor, who won 211 games and the league's first four titles during 10 seasons as head coach of the Houston Comets.
He is in his first season with the Mystics, which has already surpassed last year's win total.
NBA
New Celtics Coach Stevens Honors Commitment
New Boston Celtics coach Brad Stevens kept a commitment to appear in the Connersville, Ind., bicentennial parade despite his hectic schedule.
Stevens, who left his head coaching job at Butler for the Celtics, made a promise to former Butler star and Connersville native Matt Howard that he would appear in the parade. On Saturday, he fulfilled that promise.
Connersville, located about 50 miles east of Indianapolis, is the first place Stevens visited on a recruiting trip while at Butler.
Stevens was back at work on Sunday, scouting at the NBA's summer league in Orlando.
NHL
Stars' Seguin: 'Hackers' Sent Anti-Gay Tweet
Newly acquired Dallas Stars forward Tyler Seguin said "hackers" are to blame for an anti-gay tweet that appeared on his Twitter account.
The tweet was posted Saturday before it was quickly removed. Seguin tweeted an apology on Twitter and indicated that he was temporarily leaving the social network due to "repeated attempts by 'hackers' to try to damage my reputation."
The 21-year-old was traded from Boston to Dallas as part of a seven-player deal on Thursday, just days after Bruins general manager Peter Chiarelli said the No. 2 overall selection in the 2010 draft needed to be a "better pro."