Obama Meets with Congressional Black Caucus, Talks Voting Rights, Immigration
WI Web Staff | 7/9/2013, 7:30 p.m.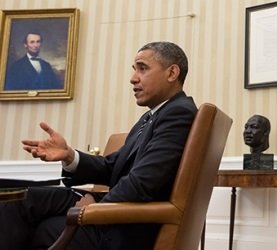 President Obama sat down Tuesday with members of the Congressional Black Caucus for the first time since 2011, a meeting that the caucus members said will strengthen ties between the two sides moving forward.
"The lines of communication have not only been open but we will have broader and deeper discussion as a result of today," said Rep. Marcia Fudge (D-Ohio), the caucus's chair.
Fudge said the focal point of the 90-minute meeting at the White House was the Supreme Court's ruling last month that invalidated key provisions of the Voting Rights Act mandating that states with a history of voter discrimination get approval from the federal government before changing voter laws.
"We talked about other ways to determine a formula, as opposed to doing it by states," Fudge said.
The caucus also pressed the president to make sure that African and Caribbean immigrants aren't forgotten as Obama seeks to reform the nation's immigration laws.
"We want to be sure that the people we represent, those that come from underserved countries, poorer countries are included in the bill," Fudge said to reporters.
Also among the addressed topics were the economy and high unemployment rates for African Americans — a sticking point for some black leaders who have criticized the president in the past for not doing enough to alleviate unemployment within the black community.
Rep. James Clyburn (D-S.C.) told CNN that a formula was discussed to target rural areas where "20 percent of the people have been stuck below the poverty level for the last 30 years."