Baker Introduces New P.G. Schools Chief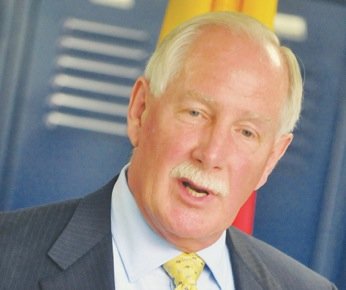 Prince George's County Public Schools (PGCPS) system has a new leader.
Kevin Maxwell, Ph.D., superintendent of Anne Arundel County Public Schools (AACPS), was chosen by Prince George's County Executive Rushern L. Baker III to fill the chief executive officer spot.
Maxwell was introduced to the community on June 28 at Northwestern High School in Hyattsville, a school where he previously served as principal.
"This is a special day for me," said Maxwell, 61. "It is not often that you have an incredible opportunity like this, and I am very excited about returning to Prince George's County. I am ready to make an impact on the county that I love, have deep roots in, and care so deeply about."
Maxwell, a resident of Bowie whose children graduated from PGCPS, was raised in Prince George's County and graduated from Bladensburg High School. He began his career in the county and spent 22 years as a teacher, principal, and administrator in PGCPS until 2000. He has been superintendent in Anne Arundel County since 2006. He also worked for the Montgomery County Public Schools for six years as an administrator.
Maxwell will replace former Superintendent William R. Hite Jr., who left the county last September to lead Philadelphia public schools. Since Hite's departure, Alvin Crawley, Ph.D., has served as interim superintendent and will serve in that capacity until the beginning of the 2013-2014 school year.
Baker also thanked Crawley for providing leadership.
"I want to thank Dr. Crawley for his outstanding leadership during this transitional period for PGCPS," said Baker. "His stewardship of the school system, care for the students, and dedication to the faculty and staff has been critical."
Maxwell will be leaving a school system with 77,770 students, 5,662 teachers, 125 schools and a $982 million budget. PGCPS, one of the nation's 25 largest school districts, has approximately 125,000 students, nearly 18,000 employees, 204 schools and an annual budget of $1.6 billion.
In a letter to Anne Arundel County employees, students and parents, Maxwell noted that the move would bring his career full circle.
"I view this new position as a chance to give back to the county that started me on the pathway of what has been an incredibly rewarding career," Maxwell wrote.
In his letter of resignation to the AACPS Board, Maxwell conveyed his pride in the progress made.
"I want this board to know clearly and unequivocally that I am incredibly proud of the work we have done together in Anne Arundel County," Maxwell expressed in the letter. "We have vastly increased access to courses of rigor and relevance for all of our children, and have seen huge gains in the number of students from traditionally underrepresented groups who are taking advanced level courses."
Maxwell was also welcomed by the school board's new chair Segun Eubanks, Ed.D., who said Maxwell brings with him a wealth of experience and a history of success.
Prince George's County Council Chair Andrea C. Harrison called Maxwell a "homegrown talent."
"We fully expect he will be a key partner with a long-term commitment to our unified goal to enhance our educational system and meet the needs of our entire school community," said Harrison.
Maxwell was chosen from three finalists provided to Baker from a three-member search committee appointed by Gov. Martin O'Malley and State Superintendent Dr. Lillian Lowery.
Maxwell said he has high hopes for PGCPS.
"There is so much potential here and I am looking forward to tapping into our potential to move this school system forward," said Maxwell. "I believe the skill and the will exists here to make this one of the best school systems in the state. Our children deserve it, and I am committed to making it happen."