Budding 9-Year-Old Designer Takes Online Boutique to New Heights
Sam P.K. Collins | 7/10/2013, noon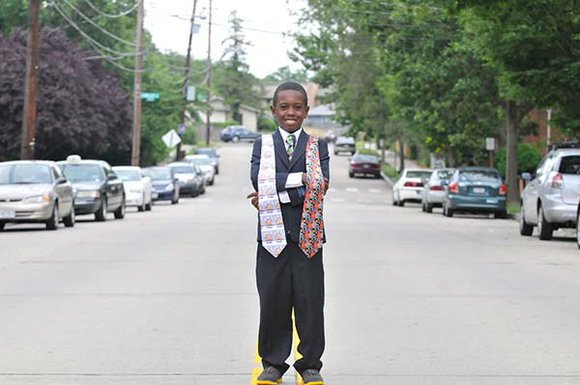 This summer, Brett Burch is setting the stage for his debut during Fashion Week sometime in the near future.
While other children frolic on playgrounds and play Marco Polo in swimming pools throughout the District, the Addison-Hyde Elementary School fourth grader is putting the finishing touches on "Super B," a green-winged superhero donning the letter "B" across the top of his red and orange costume. Brett's newest design will appear on his fourth original tie in Brett's Trove, an online boutique of garments and accessories that feature his original artwork.
"I make money when I sell my ties and lots of other stuff [to] people," said Brett, 9. "Being a businessman feels good because people will always try to buy my ties. I see it as something that will grow in the future," said the budding designer who lives in Northwest.
Since its inception two years ago, Brett's Trove has sold untold hundreds of dollars worth of merchandise. Brett's customer base has grown to include neighbors, classmates, and teachers. While many purchase his designer coffee mugs and T-shirts, Brett's ties, each of them named after common verbal expressions, have raised the profile of his flourishing business. The "Huh?" tie, Brett's most popular accessory, was featured in two of Addison-Hyde's charity auctions.
Joshua Faden, Brett's third grade teacher, counts among Brett's Trove biggest fans. Since Brett gave him one of his ties for Teacher Appreciation Day, he's worn it at least once a week.
"[Brett] is a unique kid. He has a lot of personality and it shows up in his designs," said Faden, 29. "Every time I wore his tie, he got super excited and paid even more attention in class," said Faden who lives in Northeast.
Brett's Trove has also caught the attention of the District's fashion community. The "Huh?" tie appeared on D.C. on Heels, a local fashion blog, and D.C. Spotlight, a local newspaper, featured Brett in its Cool Kids section. The young designer received high marks when he modeled the "Huh?" tie in the Totlers and Tiaras Pageant at the Tots 2 Teens Expo, an annual event that connects parents with providers of various services and activities for children. Last year, millions of Metro commuters caught a glimpse of Brett's artwork at Union Station in Northeast during the Cherry Blossom Festival.
Melody Burch, the young designer's mother, first noticed his affinity for art when he started drawing as a preschooler at the Fillmore Arts Center, located inside Hardy Middle School in Northwest. His talents have caught the attention of Taylor Thomas of WHUR 96.3 FM and Katrell Mendenhall of Chicagolicious, the hit reality television show about a Chicago-based salon and its staff of high-profile hair stylists and make-up artists.
"It's very exciting for him to go to events and meet people," said Burch, 37. "This is almost like an adventure. I really hope that he can see an increase in sales. That will show him that hard work pays off."
Clyde Burch, Brett's great-grandfather and one of his most ardent supporters, wore a "Huh?" tie during a recent Sunday service at St. Stephen Baptist Church in Temple Hills, Md., where he serves as emeritus chairman of the Deacon Board. Members of the congregation inquired about the colorful and decorative tie. The elder Burch answered everyone's questions and boasted about his great-grandson's ability to capture the fashion industry's attention at such a young age.