Concerns Voiced over D.C. Ninth-Grade Academies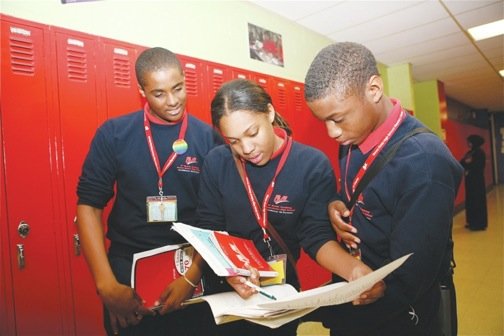 A new initiative that will separate incoming freshmen from repeat ninth-graders at District high schools this fall has raised eyebrows while being given a thumbs-up by a school administrator who says a similar project he developed at his school works.
The program which ensures the smooth transition of new ninth-graders into high school offers the newcomers the support to succeed with the creation of small ninth-grade academies at schools across the District. They include Ballou, Anacostia and Dunbar high schools, where both truancy and dropout rates have remained problematic over the years.
"They're actually using Dunbar's example, which has been a model with its successful academy," said principal Steven Jackson, whose students attend classes on an extended-day learning schedule – or 90 minutes longer than students at other city high schools.
"Our first ninth-grade academy did extremely well, and the program we administered [in 2012-13] had a 97 percent passing rate. So it looks like everybody's trying to follow what we've been doing," he said.
"I told the chancellor that I had done the same thing a few years ago, and she gave me the approval to move forward with the project at Dunbar," Jackson said.
Other high schools involved in the effort to remove over-aged ninth-graders from regular classrooms include Coolidge, Eastern, Roosevelt, Wilson and Woodson.
As part of an ongoing effort to overhaul the entire District of Columbia Public School (DCPS) system, Chancellor Kaya Henderson said the plan ensures that this year's incoming crop of freshman successfully transition and succeed in high school.
"We know that ninth grade is a critical transition year and data show us that without the right supports, our students are at a high risk of truancy," Henderson said in a release from her office regarding the initiative, which is an extension of Jackson's program. "It's clear that we need to do something differently, [and] I'm excited about the opportunities that the ninth-grade academies will provide our students, [as well as] the impact this initiative will have [reducing] truancy and [helping] us meet our strategic goals of raising proficiency and graduation rates."
Many DCPS students must repeat their freshman year, and the chancellor stated during a recent D.C. Council meeting that the odds of succeeding once students become a third-time ninth-grader are relatively low.
"The same old, same old is not going to get these young people to where they need to be," Henderson, 43, said.
Administrators contend that the strategy behind the academies is to separate repeat ninth-graders from incoming freshmen so that they're not unduly influenced by older students, this innovative program is designed to meet the academic, social and emotional needs of the new students.
According to a statement issued on June 29 by Henderson's office, research regarding the ninth grade describes that period as a critical time for students when it comes to their success in higher education and the workforce.
Meanwhile, discussions are still being held among school officials on addressing the academic needs of DCPS repeat ninth-graders – many of whom are poised for enrollment at alternative learning facilities.