Januwa Moja: Art as a Reflection of Black Life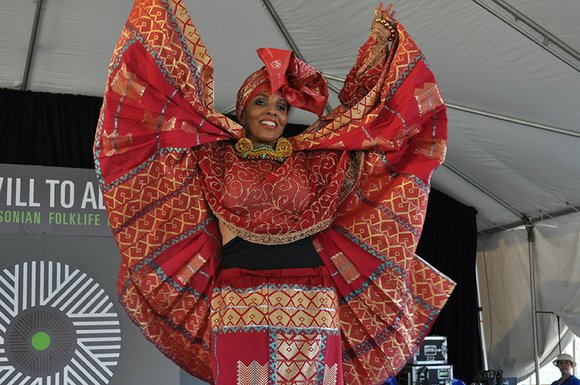 For more than 40 years, Januwa Moja has designed exquisite African-inspired outfits far from the runways of London, Paris and Milan.
Her passion is fueled by the desire to present the art, crafts and motifs of the African Diasporic experience in the purest, most positive terms.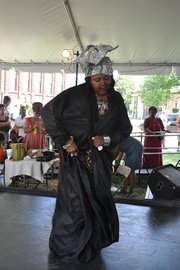 During the Smithsonian Institution's 47th Annual Folklife Festival, Moja presented a contemporary wearable art fashion show titled, "The Will to Adorn: African American Diversity, Style and Identity." The phrase, "the will to adorn," was made popular by novelist Zora Neale Hurston, Moja said, and captured a unique artistic form not often seen by large numbers of mainstream Americans. The show explored the style, artistry, traditions and social histories that have shaped these sartorial expressions.

"It's my first time doing the festival," Moja exulted. "It's exciting and I take it to be historical because we haven't had a presence – designers, hatmakers and what we wear has never been a focus. As an African-American artist in this field for many years, it's fantastic being here and getting recognized for this body of work."
"It's major being here because about two million people pass through over the course of two weeks. There are people from everywhere. It looks good to say you did the Folklife Festival." The festival ran from June 26 to June 30 and July 3 through July 7.
And it's just as satisfying to represent, Moja added with a hearty laugh.
"Black people have always been a people of adornment," she said. "We've always celebrated nature in our environment, in our adornment. It's important for the next generation to see us as designers, shoe crafters and textile designers."
The festival is held on the National Mall and visitors sample a smorgasbord of cultural customs, beliefs, rituals and practices presented through traditional music, dance, art and food.

Moja, a noted designer, artist and Baltimore native laughed as she reflected on how far she's come.
"In the '60s, when I was coming up I was just working out of a passion. I didn't have great designers to look to," she said. "Eventually, I did find a few, kept going. It made me feel really good that I traveled as much as I did. I did what was culturally relative – using Africa and the Diaspora as my springboard. I don't and didn't look to Europe for theory or style. I'm always trying to relate back to Africa for my work."
"I felt like I was on an island, but it was refreshing. In the early '70s I began to want to display but the only example I had was the European runway show."
Moja said she creates mosaics out of glass and adorns furniture "but my first love is fashion."
"It takes time to become a designer and it takes a while to gain notoriety," she said with a chuckle. "In terms of runway shows or where other fashion designers are, that's not my domain. I love what I do and I'm not going to compromise."