Januwa Moja: Art as a Reflection of Black Life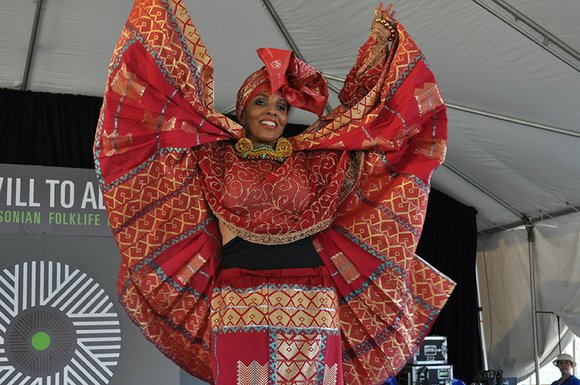 Moja said she loves finding ways to celebrate Africa, adding that she draws on fashion styles, trends and materials from far-flung communities in Mali, Ghana, Cuba and Brazil.
"I've been doing fashion shows for about 20 years and they've gotten me a lot of [attention] and coverage from all over," she said. "I've had fashion shows in Europe and Brazil and studied textile arts in Ghana, and then I came back [to the U.S] and [presented my work]. I've had fashion shows at various museums. I always saw my garments as more on the level of classics."
"Whenever someone comes to a fashion show and tells you that the beauty brought tears to their eyes, made them cry, and then I knew I was on the mark, that I was doing more than a fashion show."
Moja also works in mosaics and textiles and builds ancestral altars. Recently, she built a shrine for deceased members of the Belmont Arts Collective which was displayed at the Belmont Arts Reunion in Mount Rainier, Md., in May.
As a visitor climbs the stairs to the spacious living room of Moja's Northwest home, notes from John Coltrane's saxophone gently waft throughout the space decorated from floor to ceiling with African masks, carvings, statues, crafted objects and paintings amassed over the past 20 years. The collection hails from countries including Benin, Mali and Burkina Faso. A number of the pieces were created by Moja and her husband, fellow artist and sculptor Uzikee Nelson.
A video of Moja's 2012 trip to Cuba captures her fashion show titled, Visual Praise Song, with models from the United States and Cuba styling in stunning airbrushed, beaded, hand-stitched, embroidered and quilted African clothing Moja designed. The show honored the Yoruba Deity Oshun, patron saint of Cuba. The river goddess is often associated with mirrors which is why many of the models carried fans with mirrors attached.
The female models sashayed down the catwalk in flowing dresses, gowns, skirts, and tops of tie-dyed fabric, Walafa fabric, netting and other textured materials in vibrant reds, blues, ochres, yellows and browns. And the men epitomized cool.
Gratified to be a designer and artist for four decades, Moja said her eyes are on the next generation.
"Anyone who is 50 or older is in the legacy stage of their lives. The question is what you leave for others, what will others see of what you've done?" she said. "I use my art as much as I can to make people feel good about who we are and our place in the world. It's spiritual upliftment. As long as I'm here, I'll be doing upliftment through the arts" she said with a smile.