THE RELIGION CORNER: Gone but Never Forgotten!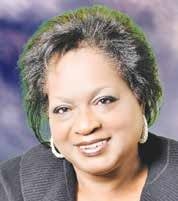 There are people we meet in life who enhance our lives, and we're devastated when they leave us. One of my many mentors died Friday June 28, and it seems unreal. I met this dynamic woman when I lived in the San Francisco/Oakland Bay area. We met under the umbrella of my sorority, Gamma Phi Delta. Dr. Willie B. Kennedy was a phenomenal woman who served as the sorority director for the Far Western Region. She installed me when I joined the organization in 1981.
This week's column is in memory of my friend, sorority sister, and mentor. She was married to Superior Court Judge Joseph G. Kennedy who predeceased her. I met Willie Kennedy 34 years ago. Sen. Dianne Feinstein (D-Calif.), the 38th mayor of San Francisco, appointed Willie Kennedy in 1981 to serve as a member of the Board of Supervisors for the City and County of San Francisco after the death of Ella Hill Hutch, the first African-American woman to hold the position.
Kennedy served with distinction and honor until 1996 when she was appointed by the dapper and always succinct Mayor Willie Brown to head up the Southeast Community Facility Commission.
In a statement issued by current Mayor Edwin M. Lee on June 28, he commended Kennedy, 89, for her many years of outstanding service.
"She served as the president of the Southeast Community Facility Commission … Willie B. Kennedy was a leader in our city who was committed to improving the community and creating opportunities for our city's children, youth and families. Appointed by Mayor Dianne Feinstein, Supervisor Kennedy cared tremendously for our residents and her impact continues to be felt to this day."
He said that she remains one of the most powerful advocates for women and minority-owned businesses. Her determination inspired him to go the extra mile, he said.
"Her courageous leadership helped San Francisco realize the Hunters Point Shipyard-Candlestick Point development, one of San Francisco's most important development projects in a generation with incredible benefits to the Bayview community and the rest of San Francisco. I was glad she was able to help turn the first shovel of dirt on the project [that represented] the beginning of the first phase of home construction at The Shipyard earlier this week," Lee said.  
"We have lost a true friend and champion of our city. Her fortitude and her resolve changed San Francisco for the better. Our thoughts and prayers remain with her family and friends at this time of sorrow."
Let me share a bit of how special she was to me. Kennedy taught me sorority politics; I became a key figure in her quest to become national president of our sorority, and she won. Once elected, her role required her to travel to Washington, D.C., often; and each time she came, she would call on me. From the airport; she would take me to dinner, I would invite other sorors; and we would gather at her hotel and stay until the early morning hours – just catching up.
Then, she met my family. My mother would get very excited every time I would tell her that Willie Kennedy was coming. Mother would say, "Willie B. is coming!" She'd prepare her best soul food meal. The entire family enjoyed her presence.
My life has been elevated to another level because of her. My first ticket to attend the Congressional Black Caucus Dinner came from her and annual tickets to Dorothy Height's dinners, as well. She gave me love, clothing, gifts, and most of all, friendship. I will miss my friend's presence. Last July she invited me to spend three days at her home. That was our last visit together. But what a blessing!
Lyndia Grant hosts a radio talk show, Think on These Things, on WYCB 1340 AM, Radio One, Fridays at 6 p.m. She speaks all across the country, visit her website at www.lyndiagrant.com, send comments to lyndiagrant@gmail.com, or call 202-518-3192.