Delta Sigma Theta Dominates D.C.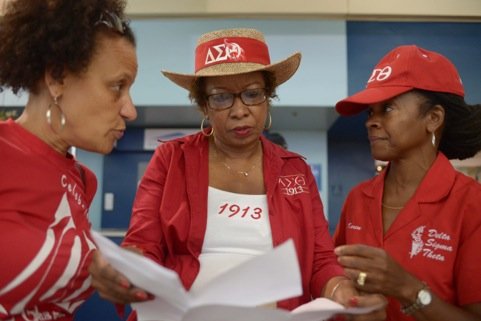 They arrived by airplanes, trains, automobiles and, as one long-time sorority member joked, some even arrived by horse and buggy.
Regardless of how the members of Delta Sigma Theta reached the District on Thursday, July 11, many of the anticipated 40,000 sisters of the largest African-American Greek-lettered sorority in the world appeared overjoyed just to be with their sorors as the organization began filling hotels, bars, restaurants and other establishments to celebrate the Deltas 51st national convention and its 100th anniversary.
"I'm telling you, there were some who came by horse and buggy," said Sarah Davidson, a long-time sorority member who arrived via Amtrak Thursday from Little Rock, Ark. "We Deltas are all over the place and it's a beautiful thing," Davidson said.
Delta officials set up meet and greet tables at Union Station in Northeast early Thursday morning as members from Georgia, Alabama, Indiana, Texas and Baltimore filed through the station's glass doors en masse – presenting a veritable sea of red.

Reagan National and Dulles airports were also covered in the crimson and cream colors of the Deltas as convention delegates established information tables at those locations to help direct members who also traveled from as far away as Germany, Japan, and Panama.
"When I pledged at Morgan State University 24 years ago, I did so because I knew I wanted to be a part of this organization," said Alisia Moore, a Baltimore resident who checked in at the Renaissance Hotel in Northwest and said she planned to take in all eight days of the convention which runs through Wednesday, July 17.
Delta officials said they are expecting more than 40,000 for the convention, which will include concerts and a Step Show at the Verizon Center in Northwest, a 5K walk at the National Mall, and various community service-oriented events in all four quadrants of the District.
"I believe in the principle of this organization and the community service it was founded on and has always [performed]," said Gail Bowens, a Kean College of New Jersey graduate and Atlanta resident.
I'm looking forward to spending the week with my sisters and I'm looking forward to a reunion of those I went to school with," Bowens said.