Zimmerman Verdict Sparks Outrage But Not Shock
Stacy M. Brown | 7/13/2013, 10:02 p.m. | Updated on 7/14/2013, 12:18 p.m.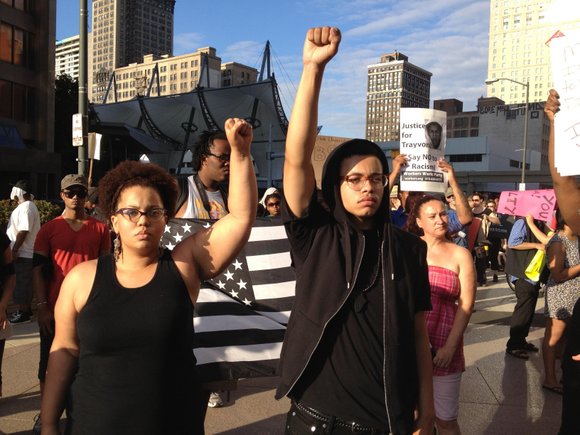 A jury of six women on Saturday found George Zimmerman not guilty of murdering Trayvon Martin, an unarmed black teen, after deliberating for more than 16 hours.
The verdict brings to a close a three-week trial in a racially-charged case that polarized the nation and illustrated the deep divide that still separates America. Some blamed the prosecution for a poorly prepared case but the verdict illustrates the primacy of Florida's "Stand Your Ground Law" which was under intense scrutiny as a result of the killing. The law grants immunity to those who use deadly force inside and outside of the home, if the person can "reasonably claim he was defending himself."
Zimmerman, 29, was on trial in the shooting death of 17-year-old Trayvon Martin in February of last year. Zimmerman, a neighborhood watch captain of a gated community in Sanford, Fla., admitted shooting and killing Trayvon after following him and the pair got into a struggle. Trayvon was shot once in the heart by Zimmerman's 9mm weapon.
When the verdict was read in the Seminole County Courthouse, it was met with silence by demonstrators who were chanting and who carried banners demanding justice. Shortly after the verdict was read, Zimmerman walked out of the courtroom a free man.
Zimmerman's brother, Robert Jr., said his family was relieved. He tweeted that he's proud to be an American.
Trayvon's parents, who were at an undisclosed location when the verdict was read, posted subdued tweets afterwards, both speaking of their continued faith in God.
Jahvaris Fulton, Trayvon's brother, asked "Et tu America?" — adjusting a quote from Shakespeare's "Julius Caesar" commonly used to express betrayal.
Locally and around the country, people were stunned by the verdict. Social media networks were alight with disgust, anger and resignation on one hand and elation that Zimmerman walked free on the other.
Diane Moore-Eubanks, a lawyer and mother of three children including a 16-year-old son, said she was disillusioned but not surprised. If it were not for God's grace, she could be Sabrina Fulton, she said.
"I'm disappointed, black men are angry," the Silver Spring, Md., resident said. "The prosecution was inept and there were no blacks of the six jurors. So you had white women who fear black men. I didn't listen to or watch the trial but saw it coming."
Moore-Eubanks, 50, said her son and daughter encountered a situation that reflects the paranoia of some whites.
"Last New Year's Eve, my son was in a white neighborhood where he was staying and six to seven police came with guns drawn because neighbors saw him in a white neighborhood and thought black people were breaking in," she said. "My daughter had to stand in front of the car, push him behind her and she handled it."
Rather than riot, Moore-Eubanks said, blacks, Latinos and other people of color need to coalesce, build businesses and work toward self-sufficiency.
One man, a federal employee with a 25-year-old son, said America and its deeply flawed criminal justice system is an embarrassment.