Zimmerman Verdict Sparks Outrage But Not Shock
Stacy M. Brown | 7/13/2013, 10:02 p.m. | Updated on 7/14/2013, 12:18 p.m.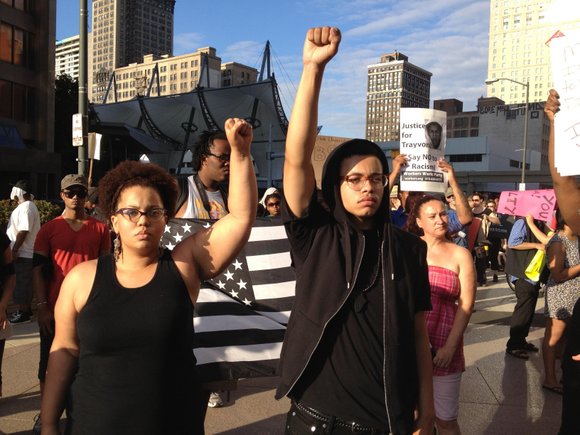 "Only in Florida. A black man's life has no value," said the man, who asked that his name not be used. "They dragged out the case, changed the story and vilified Trayvon Martin. Trayvon became the perpetrator and a murderer became the victim."
The man said the verdict was just another slap in the face for blacks in America.
"Florida is the deep South, no different from Texas, Mississippi or Alabama," he said. "This is a shame, a travesty. This just means open season on black men. Everybody can use 'Stand Your Ground' and murder innocent black men. It's amazing."
Even before the verdict came in, several civil rights activists were calling for calm anticipating violent fallout from a potential exoneration of Zimmerman.
"I hope people will listen, will accept the verdict and pursue it in a process that works for us," said the Rev. Jesse Jackson after the jury failed to reach a conclusion following its first day of deliberations on Friday, July 12.
The case has been on the public's radar for more than a year.
On the night of Feb. 26, 2012, Zimmerman observed Trayvon walking in the area wearing a hooded sweatshirt. The watch captain called police and a dispatcher advised Zimmerman not to pursue the teen but he continued anyway.
"This guy looks like he's up to no good, or he's on drugs or something," Zimmerman said, according to police reports noted during the trial. "It's raining and he's just walking around, looking about."
However, prosecutors and Martin's family said there were no indications that the teen was involved in criminal activity and that Martin was simply talking to a female friend on his cell phone while carrying a can of ice tea and a bag of Skittles back to his father's house.
During the fight that ensued, Zimmerman has claimed that Martin was slamming his head into the concrete pavement and that he fired his weapon in self-defense.
Much like the O.J. Simpson case 18 years earlier, opinions of the trial has been divided heavily along racial lines with many blacks accusing Zimmerman, who is part Hispanic, of profiling Martin, a young black teen wearing a hoodie.
Despite the Zimmerman trial's similarities to the Simpson case, in which the disgraced football star was acquitted of murdering his ex-wife and her friend, authorities and others prepared for the verdicts with another high-profile case in mind: Rodney King.
In that case, a number of white Los Angeles Police Department officers were videotaped severely beating the unarmed King, a black man.
When the officers faced assault and other charges, a jury acquitted them, an action that sparked several days of violent rioting.
The Trayvon Martin case roiled communities across the United States last year because Sanford police officials believed Zimmerman's claims of self-defense and declined to charge him. However, after 44 days of national outcry, including protests, demonstrations and a firestorm of anger in social media, Florida Gov. Rick Scott appointed a special prosecutor who returned second-degree murder charges against Zimmerman.