Dwight Howard Can — and Must — Realize Potential in Houston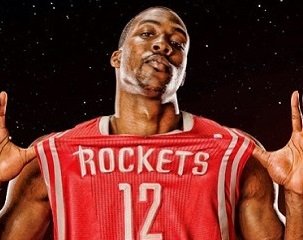 NBA fans have always been in awe of Dwight Howard's physical ability. Now, as a Houston Rocket, the big man has the opportunity to not only be the premier center in the league once again, but also to carry his team to the next level.
Howard, who officially joined the Rockets last week after signing a four-year contract worth $88 million, gives Houston a significant interior advantage against nearly every team in the league — if he plays up to his potential.
Both he and his new team will share the responsibility of getting him into positions on the floor where he can succeed. It shouldn't be particularly difficult for Howard, a seven-time All-Star and three-time Defensive Player of the Year.
The 6' 11" Howard, who was traded by Orlando to the Los Angeles Lakers last summer just months after season-ending back surgery, left the team in free agency after a tumultuous season in which he was hampered by back and shoulder discomfort despite playing in 76 of 82 regular season games.
Though the Lakers had high hopes after adding Howard and two-time MVP point guard Steve Nash in the offseason, the storied franchise suffered through one of its most disappointing campaigns and barely qualified for the playoffs. Coach Mike Brown was fired after five games and replaced by Mike D'Antoni, though Howard reportedly preferred Phil Jackson. Nash missed nearly all of the first seven weeks with a broken leg and perennial All-Star Kobe Bryant tore his Achilles tendon with just two games left in the regular season and missed the playoffs, in which the Lakers were swept in the first round by San Antonio.
Coming off such a tough season, one would imagine that Howard's really looking forward to a fresh start in Houston. It can be difficult for an athlete to reach their full potential while surrounded by team adversity and distractions, and last year's Lakers had plenty of both.
Howard is a 10-year veteran, but he is only 27 and still brings a lot of athleticism and youthful enthusiasm. Now that he's healthy again, his combination of quickness and power makes him very difficult to defend.
He has excellent jumping ability and can change directions very quickly. He's a much better player when he's in attack mode, instead of feeling his way around the court.
He'll also get a lot of help from his teammates, particularly All-Star guard James Harden, one of the league's best at getting to the rim. Good outside shooters such as Chandler Parsons should keep perimeter defenders from collapsing on Howard on the low block.
With an array of scoring threats, Howard could have lots of room to operate. If that happens, he should reclaim his spot as the most dominant center in the league.