The Week in Sports: Wizards' Vesely Impresses in Summer League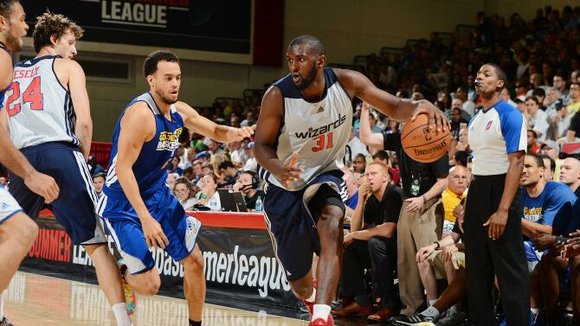 The Washington Wizards dropped to 0-2 Sunday in summer league play in Las Vegas after an 82-69 loss to the New York Knicks. Jan Vesely had a strong performance for the Wizards, scoring 10 points and grabbing 10 rebounds in 28 minutes.
Otto Porter Jr., selected No. 3 overall out of Georgetown by the Wizards in this year's draft, was 4 of 13 from the floor, finishing with eight points, five rebounds and three assists in 29 minutes. Fellow rookie Glen Rice Jr., who the Wizards obtained via trade on draft night, had nine points and pulled down five rebounds in 18 minutes.
Baseball
Orioles' Davis hits 37th homer to tie AL record
Chris Davis blasted his 37th home run to tie the American League record prior to the All-Star break, and the Baltimore Orioles rolled past the Toronto Blue Jays, 7-4, on Sunday in Baltimore.
Davis hit a two-run double in the first inning before smacking a two-run homer in the third to give him 93 RBIs, second-most in the majors behind Detroit's Miguel Cabrera.
By hitting a home run in four straight games, Davis grabbed some momentum for Monday night's Home Run Derby and tied Reggie Jackson's AL mark for most home runs before the break, set in 1969. Barry Bonds holds the major league record with 39 during his historic 73-homer campaign in 2001.
With 66 games left in the season, Davis has already reached career highs in home runs and RBIs.
College Football
Johnny Manziel departs Manning camp a day early
After missing some of his assignments as coach and counselor, Texas A&M quarterback and Heisman winner Johnny Manziel left the Manning family's football camp a day early.
A statement Sunday from the Manning Passing Academy indicated that Manziel was feeling ill, missing some assignments and arriving late to others. Camp spokesman Greg Blackwell said officials felt that it was in everyone's best interest for Manziel to leave Saturday.
The camp was held Thursday through Sunday at Nicholls State in Thibodaux, La., under the direction of former Saints quarterback Archie Manning and his two NFL quarterback sons, the Giants' Eli and the Broncos' Peyton.
Manziel won the Heisman Trophy in December — the first freshman ever to win the award.