Deltas Convention Attracts Celebrities, Cabinet Officials
More than 40,000 Celebrate Oldest Black Sorority
Stacy M. Brown and Muriel Hairston-Cooper | 7/16/2013, 7:09 p.m.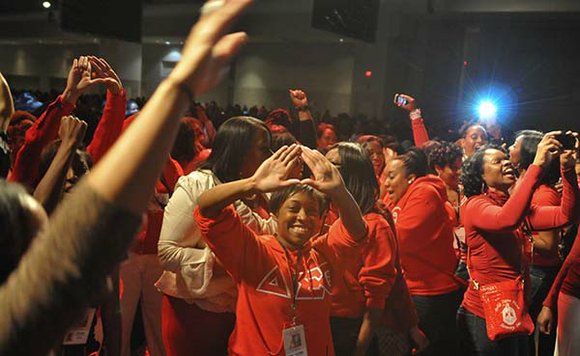 Delta Sigma Theta celebrated its centennial with the organization's 51st national convention as Washington, D.C. officials rolled out the red – or shall we say – crimson carpet for more than 40,000 members of the oldest African-American Greek-lettered sorority in the nation.
During the eight-day convention which began on Thursday, July 11 at the Walter E. Washington Convention Center in Northwest, sorors and officials of the 100-year-old organization participated in a 5K health walk, a meet-and-greet at area transportation hubs, and various community service projects throughout the four quadrants of the District.
"We are celebrating 100 years of sisterhood, 100 years of fighting for women's rights, 100 years of fighting for civil rights," said Cynthia Butler-McIntyre, the Delta's national president.
Many of the members, dressed in crimson and cream at the convention, said they decided to dedicate their lives to being a part of the organization because of the camaraderie and civic involvement the Deltas are known for.
"The aura the Deltas had with members being so sophisticated, the public service they performed and the care for one another was the reason I pledged and I'm so proud that I did all these years later," said Annette Alexander, a Decatur, Ga., resident who pledged 42 years ago at Wilberforce University in Ohio.
Nancy Chiles, a Silver Spring, Md., resident said it was always her dream to become a Delta. Chiles, 26, said she was overjoyed when she finally pledged while attending the University of Maryland as a Meyerhoff Scholar in 2008.
"I was inspired by the organization's commitment to service and scholarship," she said.
During the convention, which Delta officials said attracted between 40,000 and 80,000, sorority members enjoyed a step show at Verizon Center in Northwest on Friday, July 12, and music performances by Patti LaBelle, Brandy Norwood, Roberta Flack, Doug E. Fresh and others, the following evening.
While the Deltas bestowed honorary memberships on six women, including actress Angela Basset, sorority members also heard from U.S. Attorney General Eric Holder on Tuesday, July 16. He addressed the recent acquittal of Sanford, Fla., neighborhood watch captain George Zimmerman, who shot and killed Trayvon Martin, an unarmed black teenager, last year.
"We are mindful of the pain felt by our nation surrounding the tragic, unnecessary shooting death of Martin in Sanford, Florida and the state trial that reached its conclusion over the weekend," Holder said, during a speech at the convention's Social Action Luncheon.
"As parents, as engaged citizens, and as leaders who stand vigilant against violence in communities across the country, the Deltas are deeply, and rightly, concerned about this case. The Justice Department shares your concern. I share your concern and, as we first acknowledged last spring, we have opened an investigation into the matter," he said.
Although President Barack Obama did agree to meet with Butler-McIntyre at the White House on Tuesday, many Deltas expressed disappointment that neither the president nor first lady Michelle Obama, an honorary Alpha Kappa Alpha, made an official appearance during the convention.
However, former Secretary of State Hillary Clinton, also an honorary Alpha Kappa Alpha, didn't disappoint. The former 2008 presidential candidate received a rousing hand of applause from delegates at the convention center Tuesday morning.