CBC Livid over Passage of Farm Bill
Members Blast House Republicans for Removing Food Stamp Funding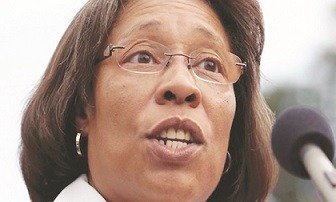 Calling it irresponsible and short-sighted, members of the Congressional Black Caucus reacted strongly to Congress' passage of the controversial Federal Agriculture Reform and Risk Management Act, also known as the farm bill.
By a 216-208 majority party-line vote, House Republicans pushed through a revised farm bill that excludes nutrition programs, such as food stamps, which has helped to feed more than 47 million individuals and families throughout the country annually.
"Feeding families and farming go hand-in-hand and a comprehensive farm bill recognizes this connection," said Congressional Black Caucus (CBC) Chair Marcia Fudge (D-Ohio).
"The connection was broken, shattering 50 years of bipartisan cooperation that has produced a farm bill to meet our nation's agricultural needs and feed our neediest families. This short-sighted approach is opposed by more than 500 agriculture, conservation, and rural development and crop insurance companies," said Fudge, 60.
The July 11 vote came days after CBC leadership met with President Barack Obama to discuss various issues, including anti-poverty programs.
During the July 9 meeting, Obama told CBC members of his renewed commitment to support and create policies that will not only build a strong economy for the middle class but also create "ladders of opportunity" for those striving to enter into the middle class.
The farm bill and failure to fund the nation's food stamp program, however, is a major impediment, CBC officials said.
"House Republicans supported increasing hunger in America with the passage of the farm bill," said Rep. Joyce Beatty (D-Ohio).
"To move forward with legislation that does not include funding for the Supplemental Nutrition Assistance Program (SNAP) is a shameful abandonment of the most vulnerable in our society," said Beatty, 63.
The bill passed by the House includes crop subsidies and other farm benefits. Over time, it also eliminates the direct payment subsidy for commodities like wheat, cotton and rice. It boosts subsidized crop insurance and retains specialty crop research and export promotion programs that aid fruit and vegetable growers.
The bill also contains a provision that permits universities to grow industrial hemp for research purposes in states with laws that allow it to be harvested.

Industrial hemp is a strain of cannabis with very low levels of tetrahydrocannabino (THC), which scientists say is the main mind altering ingredient in cannabis. Hemp is produced in 30 countries for use in a wide variety of fiber and textile products. However, American law treats hemp the same as marijuana and anyone who cultivates it could face jail time.

"Without a doubt, this was an historic day for industrial hemp in America," said James Comer, the agriculture commissioner for the state of Kentucky.
"I won't be satisfied until Kentucky farmers can legally grow industrial hemp again, but I am pleased that we have made it this far," said Comer, 40.
Despite Comer's glee, CBC members and other Democrats continue to express deep concerns over the bill while Republicans argue that they had to be creative in adjusting the farm bill to save money.
"I'm a practical guy and I came to the realization that I had to think outside of the box," said Rep. Frank Lucas (R-Okla.).
The farm bill includes important reforms like repealing direct subsidies and streamlining programs that will save taxpayers millions and help farmers plan for the future, said Rep. Erik Paulsen (R-Minn.).
Food stamps accounted for about 80 percent of the farm bill's $1 trillion price tag, making it necessary to cut the nutrition program, Republicans contend.
Members of the House and Senate negotiating teams now plan to convene to try and work out their differences.
"I will keep fighting for those who are being ignored and pushed aside because the standard set (in the farm bill) is completely unacceptable," said Rep. Donald Payne, Jr. (D-N.J.).