D.C. Readies for 50th Anniversary of the March on Washington
WI Web Staff | 7/17/2013, noon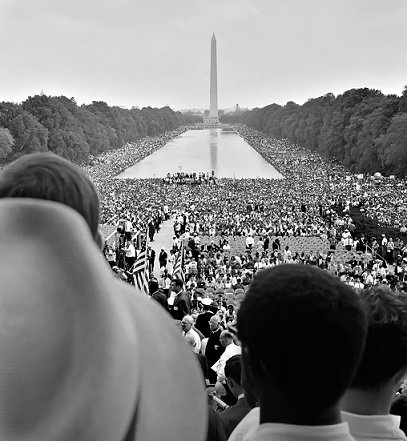 A national coalition will commemorate the 50th anniversary of the March on Washington next month with a five-day celebration that event organizers say has been galvanized by the recent Supreme Court ruling on the Voting Rights Act.
The program, sponsored by the Coalition for Jobs, Justice & Freedom, will include a march on Aug. 24 along the historic 1963 route and a commemoration of Dr. Martin Luther King Jr.'s "I Have a Dream" speech.
"Our coalition hopes to make the 50th anniversary of the March on Washington and my father's famous 'I Have a Dream' speech a meaningful experience which addresses the urgent causes of jobs, justice and freedom," said Bernice A. King, the daughter of the civil rights icon and King Center CEO. "Join with us in celebrating freedom — freedom to participate in government, freedom to prosper in life and freedom to peacefully co-exist."
The coalition includes many of the organizations involved in the 1963 march, including the NAACP, the Southern Christian Leadership Conference and the National Urban League.
Amid the planning for the event, the Supreme Court struck down late last month a key provision of the Voting Rights Act, first enacted in 1965 to combat racism and voter discrimination in the South. The court declared it unconstitutional to give the federal government oversight of election changes for states and jurisdictions until a better method is crafted for determining for where the oversight is necessary.
Event officials said the court's action has only energized the coalition's mobilization of the five-day commemoration, which will begin Aug. 24. In addition to the march, the Global Freedom Festival will open on the National Mall.
On Aug. 28, the actual anniversary of the march and the "I Have a Dream" speech, the coalition will host an interfaith service at 9 a.m. at the King Memorial before a 1 p.m. celebration on the steps of the Lincoln Memorial, culminating with a ceremonial bell ringing at 3 p.m., the exact time of King's famous speech.