MALVEAUX: Looking Beyond George Zimmerman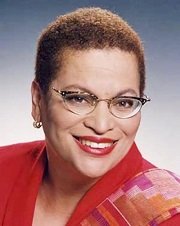 What if George Zimmerman had not had a gun? If he did what he was told to do, police officers may have come and questioned Trayvon as he proceeded to the house of his daddy's friend. Or perhaps there may have been a fist fight. There surely would not have been a deadly bullet, and while Zimmerman was the slayer, our gun laws are complicit in Trayvon Martin's execution.
How many young people have been victims of unintended violence, victims of drive by violence, people just minding their business and losing their lives for minding their business? How many people with axes to grind would whoop and holler instead of carrying guns to workplaces, schools, and other places? How many crazy legislatures are relaxing gun laws to allow people to carry guns in bars and near schools? How many retailers, such as Starbucks, refuse to ban guns in their establishments (in states where openly carrying guns is legal)?
As we mourn for Trayvon Martin, let us also recognize the scourge of gun violence. If we restricted gun ownership, this tragedy, and thousands of others, may not have happened.
Julianne Malveaux is a Washington, D.C.-based economist and writer. She is President Emerita of Bennett College for Women in Greensboro, N.C.