Mandela's 95th Birthday Celebrated
Ailing 'Madiba' Honored throughout the Country and World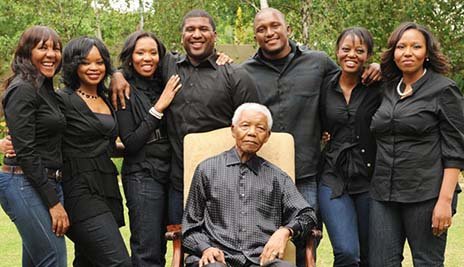 "There were many dark moments when my faith in humanity was sorely tested, but I would not and could not give myself up to despair. That way lays defeat and death." — Nelson Mandela
South Africa is celebrating the 95th birthday of its most beloved national figure, the anti-apartheid icon Nelson Mandela, whom so many still warmly refer to as their "Madiba," or tribe leader.
Plans to honor the civil rights hero locally include members of the South African Embassy in Northwest hosting a series of volunteer service activities on Thursday, July 18 – Nelson Mandela Day – which happens to be Mandela's birthday.
The National Federation of the Blind in Baltimore plan to host workshops in conjunction with the South African Embassy, as well. Federation officials plan to teach individuals about the challenges faced by those who are blind.
A special community service ceremony has been planned from 9 a.m. to 10:30 a.m., at Shiloh Baptist Church in Northwest and civic-minded volunteers will also be afforded the opportunity to help preserve the wildlife habitat by removing invasive plant species from the brushes around the Anacostia River. Participants will also have a chance to fish in the well-known body of water on Kingman Island.
Embassy officials said they're also looking for volunteers to lend a hand in packaging food items to be distributed at the Capital Area Food Bank in Northeast at 1 p.m., to families in need.
An Embassy spokesman said individuals are being sought to help honor Mandela's legacy by volunteering 67 minutes of their time to charity and service projects.
Sixty-seven represents the number of years Mandela served his country through public service, politics and while incarcerated.
In New York, superstars Stevie Wonder, Aretha Franklin, Wyclef Jean, Josh Groban and others will perform a special concert in Mandela's honor at Radio City Music Hall. Proceeds from the concert will benefit 46664, Mandela's global HIV/AIDS awareness and prevention campaign. The number 46664 represents Mandela's inmate number during his imprisonment on Robben Island.
Events to honor Mandela are scheduled in Chicago, Los Angeles, Detroit, Boston, and a number of other cities throughout the United States.
"He is proof that even the most intractable problems are surmountable, that division can be overcome with dignity and that forgiveness can triumph over fear," former U.S. Secretary of State Hillary Clinton said.
Filmmakers also have selected Mandela's birthday to officially announce that the icon's life will be depicted in a major motion picture based on his autobiography, "Long Walk to Freedom."
The movie has already been completed and is expected to be released on Nov. 9 with actor Idris Elba, formerly of the critically-acclaimed HBO drama, "The Wire" portraying Mandela.
"The film is based on Mandela's words and his story," Elba said in an interview conducted with Essence Magazine on July 11. Elba, 40, who was selected by Mandela's family for the role, said he's pleased with the movie. "It's a very big and proud moment for me," the actor said.
Mandela was born on July 18, 1918 in Mveso, Transkei, South Africa.
He became involved in the anti-apartheid movement when he was in his 20s and joined the African National Congress in 1942.
For two decades, Mandela directed a campaign of peaceful, non-violent defiance against the government and its racist policies, which ultimately led to his imprisonment for 27 years.
After his release in February 1990, Mandela and South African President F.W. de Klerk both received the Nobel Peace Prize for their efforts in dismantling apartheid.
Three years after his release from prison, Mandela was inaugurated as the nation's first black president in 1994.
Mandela has been hospitalized for more than a month and remains in critical condition suffering from lung and other respiratory problems. Approximately 12 million students who live in South Africa celebrated Mandela Day by singing "Happy Birthday" to a man who sacrificed a great portion of his life for freedom, last year.
"My prayers are with him today. I'm hoping for the best," said veteran Democratic strategist and Washington, D.C. power broker, Donna Brazile, 53. "We are all praying for his recovery. But, we also know that Mandela has left us with a legacy to keep," she said.