New P.G. Schools Leader Maxwell Promises to Meet Expectations
Introduced at Community Forum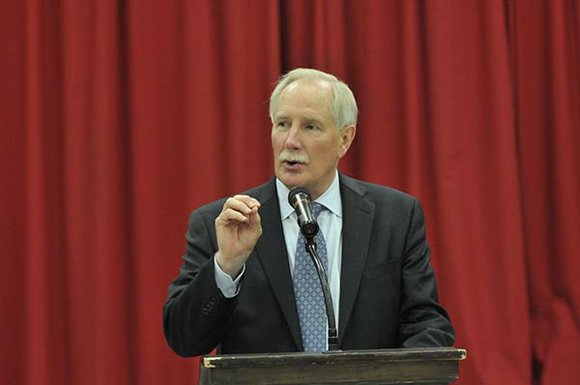 In a overwhelming show of support, hundreds of parents, students, educators, and community leaders attended a meet n' greet July 10 at Crossland High School in Temple Hills, Md., where they were joined by Prince George's County Executive Rushern Baker and school board members in "welcoming home" one of their own, new schools CEO, Kevin Maxwell.
Maxwell, 65, the former superintendent of Anne Arundel Public Schools, was selected late last month by Baker to lead the 124,000-student Prince George's County Public Schools (PGCPS) system. The Prince George's County native who's taught at Crossland as well as Northwestern High School, was one of three finalists for the job. He replaces Alvin Crawley, who's held the post on an interim basis since June 2012.
"I'm disappointed that [this huge crowd] didn't turn out for me," Baker joked prior to introducing Maxwell. The crowd roared with laughter.
However, on a more serious note, Baker went on to say that in attracting school leaders, the goal is to seek out the best, the brightest and someone who would treat every child enrolled at their school as if they were their own. Baker also said that leaders like Maxwell who are also committed to their communities, are appointed to ensure students get a quality education and learn in a safe environment.
"That's why we chose Dr. Maxwell," said Baker, 54. "When schools hire good teachers and administrators, parents take a chance," he said. "Today, we take that chance [because] it's about moving this system forward. We listened to you when we went out and selected this man."
Earlier this year, Baker announced his proposal, similar to the approach taken by former D.C. Mayor Adrian Fenty in 2007, when he appointed Michelle Rhee as schools chancellor, in an effort to improve education in Prince George's County by way of a takeover.
The takeover plan was met with widespread opposition, with the school board insisting it was a bad bill being pushed through the legislature under the guise of education reform and without the benefit of a public hearing. Nonetheless, the Maryland General Assembly passed the bill in April.
Before his appointment in 2006 as Anne Arundel's schools superintendent, Maxwell worked for 22 years as a teacher and principal in Prince George's County schools. He also has experience as an administrator for Montgomery County schools.
During his tenure in Anne Arundel, which was assailed in 2011 by an NAACP complaint to the federal government, alleging that black students in the county's schools were being treated differently in the disciplinary process, the school system expanded its magnet programs and focused on environmental literacy. The system also embraced a social media education policy that utilized Twitter and Facebook in communicating with parents.
While no word was provided on Maxwell's new salary, he earned $257,000 annually in Anne Arundel. Crawley's salary hovers around $215,000 and his predecessor, William Hite Jr., who left to lead Philadelphia public schools, was paid $250,000 a year.
Mark Johnson, 50, a 1980 graduate of Crossland, has six children who attended schools in the county. He remains active in the PTA and other community organizations, and expressed excitement over Maxwell's appointment.