New P.G. Schools Leader Maxwell Promises to Meet Expectations
Introduced at Community Forum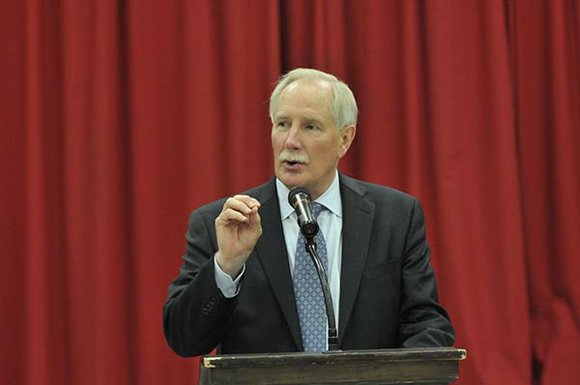 "It still remains to be seen, but I believe they made the right choice in selecting Dr. Maxwell," said Johnson, who lives in Temple Hills. "He seems like a leader everyone can relate to. He's down to earth and takes a no-nonsense approach accomplishing what's best for the education of our children," Johnson said. "I have total confidence in his ability to take the school system to unprecedented levels of achievement."
Maxwell said he plans on living up to the community's expectations.
"It's true what they say about me growing up in Prince George's County where I attended Kentland Elementary, Kent Junior High School and Bladensburg High School," Maxwell said. "I started at Prince George's County Community College and stopped attending because I couldn't afford it, so I joined the Navy where I spent three years of active duty, then went on to earn the GI Bill. That helped pay for my bachelor's and master's degrees."
Maxwell, who once criticized the Anne Arundel County Council for reducing the schools' capital budget by $5 million, stressed that it's critically important that the community continues to talk about education.
"If you came out tonight and it's the last time I see you or it's the last time the [school] community sees you, then that's a tragedy," said Maxwell, who added that one of the first priorities of his agenda is to close the achievement gap.
"We're also going to add programs that are attractive and that are important to our business community," said the married father of four, who describes himself as a "very visible'' leader who likes to be out among the masses touting his educational objectives.
"I'll be out at every single school in the district this school year," Maxwell said. "[Overall], I'm going to enjoy being [back in Prince George's County schools] where we're going to learn a lot together."