National Arts Medal Inspires WPAS
Margaret Summers | 7/17/2013, 3 p.m.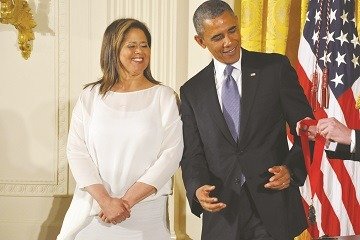 The Washington Performing Arts Society's (WPAS) mission to provide quality arts presentations and art education to the District of Columbia recently received a major boost.
On July 10, President Obama awarded it a National Arts Medal "for bringing world-class performances to our Nation's Capital." The medal is the U.S. government's highest award given to art institutions and artists.
"I was profoundly moved by the warmth of the people in the room, the goodwill of the artists, writers, (and other honorees)," said Jenny Bilfield, 48, the newest WPAS president and CEO. Bilfield, who accepted the award during a White House ceremony on the organization's behalf, added, "It is wonderful to have WPAS recognized in this meaningful way."
WPAS is the first arts presenting organization of its kind and only the fourth District-based arts group to receive a National Arts Medal.
Other National Arts Medal honorees included African-American novelist Ernest Gaines, author of "The Autobiography of Miss Jane Pittman," African-American blues, jazz and rhythm and blues composer and pianist Allen Toussaint, whose hits include "Lady Marmalade" and "Southern Nights," and "Star Wars" creator George Lucas.
Bilfield, appointed to WPAS on April 1, is the organization's fourth president in its 48-year history. Originally from New York, Bilfield earned her undergraduate degree in music from the University of Pennsylvania. She was previously the artistic director of Stanford University's Stanford Live program.
"The National Arts Medal gives us additional 'rocket fuel' to do more things," said Bilfield. "It is a call to action to be even more innovative, collaborative and inclusive."
Even in its early years, she said, WPAS promoted diversity and inclusion. "Todd Duncan, who originated the role of 'Porgy' in the George and Ira Gershwin opera 'Porgy and Bess,' was WPAS's first board chair (in 1965)," said Bilfield. "That sent an important message."
WPAS presented many African-American artists and performing groups in Washington, D.C. early in their careers, noted Bilfield. Opera singers Jessye Norman and Kathleen Battle were among them. Opera singer Denyce Graves' first main stage recital was presented by WPAS. The earliest Washington, D.C. performances of tap dance artist Savion Glover and jazz and classical trumpeter Wynton Marsalis were WPAS productions. The Dance Theatre of Harlem was presented by WPAS not long after its founding at the Kennedy Center, a year after the performing arts center opened. Many concerts by District-based women's a cappella singing group Sweet Honey in the Rock were WPAS presentations.
WPAS is also known for its arts education programs which bring a variety of performing and visual artists into area schools. The organization's arts education mission extends to its summer camps, which focus on jazz, strings, step dancing with Step Afrika! and gospel. The WPAS children's and adults' gospel choirs showcase local gospel talents performing music by local and national gospel composers.
"We are eager to collaborate with organizations that share the very vibrant culture of Washington, D.C. in producing events, not only in the traditional venues, but in many different types of neighborhoods," said Bilfield. "I've met with a lot of interesting people who have given me ideas going forward. In other words, 'Watch This Space'!"