THE RELIGION CORNER: 'The Big Secret' About Domestic Violence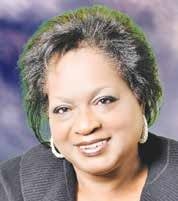 By special request, I've been asked to write a series of columns on the topic of domestic violence. This is a topic close to my heart, as a former victim of both verbal and physical abuse in my previous marriage of 17 years. Many of you who read my column know that I've written about this subject on various occasions, however, this series will delve a bit deeper into the subject. I will share the definition; provide information to readers so they'll know what to do if they're in this type of horrific situation. If this topic applies to your life, evaluate by answering the questions below.
Are you in an abusive relationship? Are you ever afraid of your partner? Does your partner threaten to hurt you? Does your partner control all the money? Has your partner ever pushed you or shoved you, thrown objects at you, or forced you to have sex? Does your partner stalk you or show up uninvited at your job or when you're out with friends?
If you answered yes to one or more of these questions, you may be a victim of domestic violence.
You might feel hopeless, desperate, confused, and alone. You may not want to tell people about your situation because you're afraid, ashamed, or embarrassed. Always remember that you're not alone, and help is available in your community. But first, let's define what "Domestic Violence" and what it entails.
Domestic violence, sometimes called battering, family violence, or intimate partner violence, is a pattern of behavior used to establish power and control over another person through fear and intimidation, often including the threat or use of violence. Domestic violence can include physical abuse, emotional abuse, psychological abuse, economic abuse, and/or sexual abuse. Abusers use threats, intimidation, isolation, and other behaviors to gain and maintain power over their victims.
Domestic violence can affect anyone, regardless of income, race, ethnicity, sexual orientation, gender identity or religion. One in four women will experience domestic violence in her lifetime. If you are being abused, call 911.
What does the Bible have to say on this subject? 1st Corinthians 3:16-17 says "Do you not know that you are God's temple and that God's Spirit dwells in you? If anyone destroys God's temple, God will destroy him. For God's temple is holy, and you are that temple."
Colossians 3:19 says "Husbands, love your wives, and do not be harsh with them."And I love what this scripture has to say: "Likewise, husbands, live with your wives in an understanding way, showing honor to the woman as the weaker vessel, since they are heirs with you of the grace of life, so that your prayers may not be hindered."
There are many more scriptures, some of which I will share each week, for the next several weeks or so. This topic applies to men and women, but truthfully, I'm far more partial to women who suffer at the hand of abusers. But men, if this resonates with you, then by all means, use it.
Next week, I will share some of the violent situations that I encountered during my marriage, like the chokings, being tied to a bed, pillow over my face, and how and why I jumped from a moving vehicle to get away; and finally while living in the San Francisco Bay area, I will share how my daughter, just a little girl in elementary school at the time, and I had to flee from our home and hide behind a school to escape the violence; and finally, I will share how my son jumped on his father, beating his leg to make him get off of his mother. Other times, I'll share stories from the Kennedy Foundation; a non-profit founded for the specific purpose of helping to prevent domestic violence.
Remember, you're not alone.
Lyndia Grant is an author, inspirational and motivational speaker, radio talk show host and columnist; if you would like Lyndia to serve as facilitator for your retreat or special event, call 202-518-3192. Tune in Fridays at 6 p.m., to the radio talk show, 1340 AM, WYCB, a Radio One Station.