Revamped Taurus Tops Segment in Gas Mileage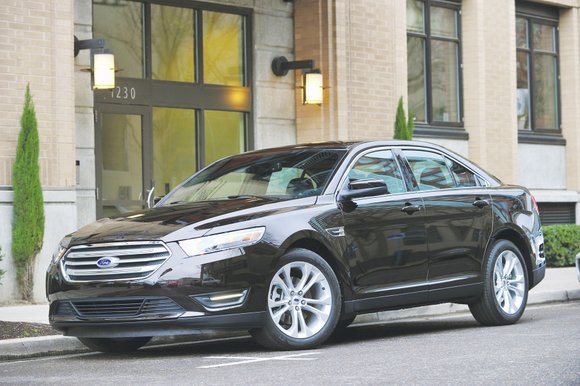 When Ford Motor Company retired the Crown Victoria in 2011, many wondered whether the car buying public would warm up to the Taurus – which by default had become the largest sedan in Ford's lineup.
Though less luxurious than the also defunct Lincoln Town Car, the Crown Vic or CV had over the years become the de facto workhorse for a variety of uses – cop car, grand taxi and corporate executive hauler. This was also the car for comfort-seeking retirees who could not quite afford (or didn't want to pay for) a full-fledged luxury platform, but needed V-8-power, comfort, lots of interior space, and reliable transportation.
After spending close to a month in two different trim levels of the Taurus, we are pleased to report that the Taurus is light years ahead of the Crown Vic. Whereas the CV is admired for its cavernous rear seating for three large adults without the slightest complaint (unless they're wearing handcuffs), the Taurus counters that with either front wheel or All-wheel-drive, and a comfortable and quiet cabin with relaxed dynamics and respectable power.
While the Crown Vic's girth – actual car length 17.6 feet – and imprecise steering made it wallow like a land barge, the Taurus handles with much more precision and confidence, often out accelerating the CV's V8 which swallows gasoline like fuel was still under a buck a gallon. Never mind that the Taurus sports only V6 and 4 cylinder engines. Your grandfather's Ford CV also lacks everyday amenities such as dual zone climate control, Bluetooth and MP3 players – stuff quite common even in $17,000 Kias.
As a class, sales of large sedans are falling, with the mid-size sedan segment picking up shares. The Taurus, however, is going strong, with sales up 30.5 percent so far this year. Compared to mid-size sedans such as the Toyota Camry and Nissan Altima, the Taurus feels more substantial – with its big-car presence, more hip room, and trunk space.
Freshened for 2013, the new Ford Taurus delivers a lot for large sedan customers – better fuel economy, more technology, design refinement, improved craftsmanship and enhanced driving dynamics. Built in Chicago, the Taurus line gets a welcome face-lift this year which includes a new grille, front fascia, wheels, front and rear lighting, rear fenders and deck lid.
A choice of new engines offers customers increased fuel efficiency. One of our test cars came with EcoBoost 2.0-liter, a 4 cylinder engine which combines the direct injection of gasoline and a turbocharger to provide an estimated 240 horsepower while delivering highway fuel economy of at least 31 mpg. That performance bests Toyota Avalon by 3 mpg and is comparable to naturally aspirated V6 engines offered by competitors.
We also drove a car equipped with the Ti-VCT 3.5-liter V6 engine. The V6 is offered as standard equipment in Taurus SE, SEL and Limited series models. In the new Taurus, this engine delivers an increase of 2 mpg highway, with 10 percent more horsepower than the previous model.
Priced at $27,395, the base V-6 Taurus offers a lot for the money, and its 29-mpg highway rating is among the best in the class. Our test model, equipped with the EcoBoost 2.0-liter, listed for a few bucks under $35,000. It was furnished with comfortable leather and a lavish list of options that includes the wholly revamped MyFord Touch system, an available Sony Audio System and HD Radio, adaptive cruise control with forward collision alert, and Active Park Assist (borrowed from Lincoln's sistership MKS).