Zimmerman Acquittal Spurs Protests, Outrage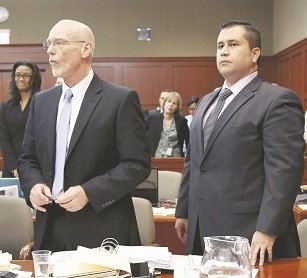 In the days since a six-woman jury returned a not guilty verdict in the George Zimmerman trial, protests have broken out in communities across the country and people representing a rainbow of cultures and ethnicities have vowed to fight against a system they assert places no value on the lives of African Americans.
The jury deliberated for 16 hours over two days and at 9:59 p.m. Saturday, July 13 found Zimmerman not guilty of murdering Trayvon Martin, an unarmed black teen who he followed after seeing him walking in a gated community in Sanford, Fla.
The verdict brings to a close a three-week trial in a racially-charged case that polarized the nation and illustrates the deep divide that still separates America. Some blamed the prosecution for a poorly prepared case but the verdict illustrates the primacy of Florida's 'Stand Your Ground Law' which came under intense scrutiny as a result of the killing. The law grants immunity to those who use deadly force inside and outside of the home, if the person can "reasonably claim he was defending himself."
There have been calls for economic boycotts of Florida, demands for broader national boycotts and unrelenting scorn and criticism of the jurors, Zimmerman and his lawyers.
For one mother, however, the verdict is personal. She, like a number of black mothers and fathers are holding their children a little closer and wondering how to protect their children not just from police but from vigilantes, too.
"I've been in mourning since I heard the verdict," said Diane Moore-Eubanks, a Silver Spring, Md., resident and mother of a 16-year-old son. "It's painful to think of what happened to Trayvon and the outcome of the trial. I am disillusioned but not surprised. If it were not for God's grace, I could be Sabrina Fulton."
Moore-Eubanks, 50 and a lawyer, said she constantly counsels her children about how to comport themselves in public or when they encounter police. And she echoed the question being asked by black parents across the country, "How do I explain this to my children?"
On the night of Feb. 26, 2012, Zimmerman, 29, observed Trayvon walking in the area wearing a hooded sweatshirt. The watch captain called police and a dispatcher advised Zimmerman not to pursue the teen but he continued anyway.
"This guy looks like he's up to no good, or he's on drugs or something," Zimmerman said, according to police reports noted during the trial. "It's raining and he's just walking around, looking about."
However, prosecutors and Martin's family said there were no indications that the teen was involved in criminal activity and that Martin was simply talking to a female friend on his cell phone while carrying a can of ice tea and a bag of Skittles back to his father's house.
During the fight that ensued, Zimmerman has claimed that Martin was slamming his head into the concrete pavement and that he fired his weapon in self-defense.
Much like the O.J. Simpson case 18 years earlier, opinions of the trial have been divided heavily along racial lines with many blacks accusing Zimmerman, who is part Hispanic, of profiling Martin, a young black teen wearing a hoodie.