Zimmerman Acquittal Spurs Protests, Outrage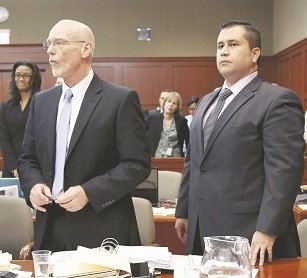 When the verdict was read in the Seminole County Courthouse, it was met with silence by demonstrators who were chanting and who carried banners outside demanding justice. Zimmerman's family and lawyers laughed and hugged, shook hands and congratulated each other. Shortly after the verdict was read, Zimmerman walked out of the courtroom a free man.
Locally and around the country, people are still aghast and deeply angered by the verdict. Social media networks have been alight with disgust, anger and resignation on one hand, and elation that Zimmerman walked free on the other. The verdict has generated prayer vigils, demonstrations, marches and church services, meetings, discussions and other gatherings and another national conversation about race, guns, and a criminal justice system critics said chews up and spits out people of color.
President Barack Obama, who shortly after Trayvon's murder said he could have been his son, issued a statement about the verdict.
"The death of Trayvon Martin was a tragedy. Not just for his family, or for any one community, but for America," he said. "I know this case has elicited strong passions. And in the wake of the verdict, I know those passions may be running even higher. But we are a nation of laws, and a jury has spoken. I now ask every American to respect the call for calm reflection from two parents who lost their young son."
Obama said Americans should ask themselves if they're doing all they can to widen the circle of compassion and understanding in our own communities.

The Rev. Graylan Scott Hagler said Zimmerman's exoneration reminded him of the 1950s and '60s when whites in Southern states on trial for murdering and brutalizing blacks, and those who fought segregation, laughed and joked in court before being acquitted by a jury of their peers.
"This is absolutely outrageous that you could insinuate and state that Zimmerman is not culpable to any degree," said Hagler, senior pastor of Plymouth Congregational Church in Northeast. "Here you have a kid versus a man with a gun and the kid ends up dead. He was minding his business, followed, and an encounter ensued."
"Folks are outraged. We have to keep the pressure on with demonstrations and marches until the Department of Justice gets a backbone."
While the verdict brought the 24-day trial to a close, it is clear that the case isn't going away.
The Rev. Al Sharpton, president of the National Action Network, announced on Tuesday morning that "Justice for Trayvon" vigils in 100 cities across the country would take place on Saturday, July 20th. He and other civil rights leaders continue to press the federal government to investigate civil rights charges against Zimmerman.
In addition, hundreds of national ministers, led by Sharpton plan to hold prayer vigils and rallies in front of federal buildings calling on the Justice Department to investigate civil rights violations against Trayvon.
One man, a federal employee with a 25-year-old son, said America and its deeply flawed criminal justice system is an embarrassment.
"Only in Florida. A black man's life has no value," said the man, who asked that his name not be used. "They dragged out the case, changed the story and vilified Trayvon Martin. Trayvon became the perpetrator and a murderer became the victim."
The man said the verdict was just the latest slap in the face for blacks.
"Florida is the deep South, no different from Texas, Mississippi or Alabama. This is a shame, a travesty. This just means open season on black men. Everybody can use 'Stand Your Ground' and murder innocent black men. It's amazing," he said.