Financial Education Key to D.C.'s Economic Future
Scott Wilfong and Jackie Starr | 7/18/2013, 11:23 a.m.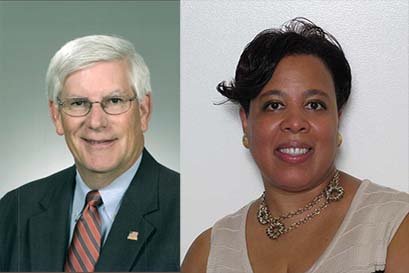 This past April, Operation HOPE, a financial education nonprofit, SunTrust Bank and 17 other businesses and government organizations – including the FDIC and U.S. Department of Treasury – came together for the Banking on Our Future program. This initiative teaches students about checking and savings accounts, credit, basic investments and the importance of personal responsibility. Volunteers taught financial education sessions for 895 students in 39 individual classrooms at a Washington, D.C. area middle school. In all, the program has reached more than 30,000 D.C. students since its inception.
Support among the business community for programs like this suggests business leaders are beginning to understand the critical importance of financial education to the future of D.C. According to the U.S. Census Bureau, more than 18 percent of D.C. residents live below the federal poverty level, and the homeownership rate is significantly lower than the national average – 42.8 percent versus 66.1 percent nationally. In order to help overcome these and other economic challenges, the business community needs to stay engaged in the effort to educate citizens from an early age about effective money management and the advantages it brings.

For many people, the main obstacle to homeownership, owning their own business or simply achieving a sense of financial well-being is information. Purchasing a condo for the first time, for example, entails understanding the factors that a bank will consider before extending a loan and knowing about programs that are available to first-time homebuyers. Navigating FHA loan programs and the application process for down payment assistance can discourage people who may be financially sound and ready to buy.

Equipping people with the skills to become financially secure is much more than just a goodwill service to the community; it is also good for business. Citizens empowered in this way make informed customers who are able to purchase a new car, rent an apartment based on their own good credit or apply for a loan to start a business. They are also more likely to be engaged citizens because they become stakeholders in the overall success of the district. Operation HOPE is endeavoring to make this a reality and has already served 80,000 individuals through its HOPE Financial Dignity Center located in Southeast D.C.

Operation HOPE uses the term "financial dignity" to describe what people gain when they move beyond payday lenders to access mainstream financial services, from bank accounts to debit cards and mortgages. It will take a community of committed business and nonprofit leaders to make this a reality for all of the district's residents.

Much more needs to be done to ensure that every D.C. resident has access to the financial tools necessary to succeed in today's complex economy. SunTrust and others in the business community can help people through financial education to confront the challenging circumstances in their life, such as upgrading apartments to accommodate a new addition to the family, caring for an elderly parent or simply building up a rainy day fund to become more secure.
Washington's business community should be a key player in helping to fill the financial education gap. They can start by investing in programs like Operation HOPE that are reaching thousands of children and adults every year with a hopeful message about what they can achieve when they take control of their financial life.
Jackie Starr is Operation HOPE's Mid-Atlantic market president.

Scott Wilfong is SunTrust Bank's division president and commercial division line of business manager for the Greater Washington Region. He also serves on Operation HOPE's Mid-Atlantic board of directors.