Mandela Steadily Improving on 95th Birthday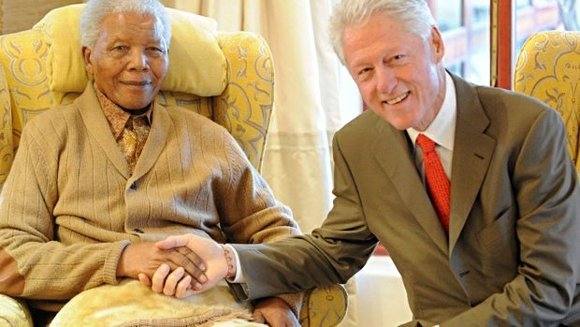 Nelson Mandela, South Africa's first black president, continues to improve while spending his 95th birthday on Thursday in a Pretoria hospital.
Mandela, known around the world as a symbol of the struggle against apartheid, has been recovering since being hospitalized in early June for a recurring lung infection. Reports previously stated that he might not recover, but doctors later said that he was in "critical but stable" condition.
It is the fourth hospital stay this year for Mandela, also known as Madiba, his Xhosa clan name.
South African President Jacob Zuma said Mandela's health had steadily improved and he hoped for a speedy recovery.
"We are proud to call this international icon our own as South Africans and wish him good health," Zuma said. "We thank all our people for supporting Madiba throughout the hospitalization with undying love and compassion. We also thank all for responding to the call to give Madiba the biggest birthday celebration ever this year."
In 2009, the United Nations declared July 18 as Nelson Mandela International Day. Each year since, supporters have been asked to volunteer 67 minutes of their time to mark his years of public service.
President Barack Obama also extended birthday wishes to Mandela, who was imprisoned for 27 years for his beliefs.
"On behalf of our family and the people of the United States, Michelle and I extend our warmest wishes and prayers to Nelson Mandela on the occasion of his 95th birthday, as well as to Graça Machel, the Mandela family and the government and people of South Africa as they mark the fifth annual Nelson Mandela International Day," Obama said in a statement. "Our family was deeply moved by our visit to Madiba's former cell on Robben Island during our recent trip to South Africa, and we will forever draw strength and inspiration from his extraordinary example of moral courage, kindness, and humility."