Supporters Rally for Justice in Trayvon Martin Case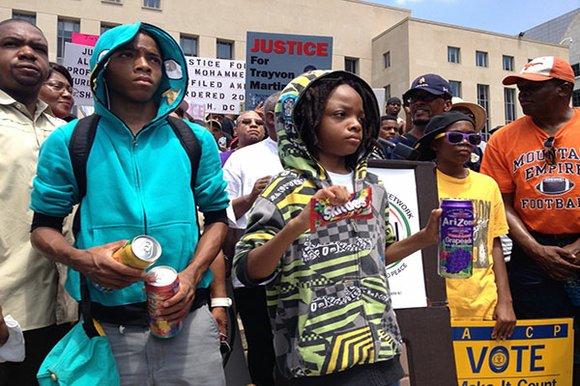 Thousands of people gathered at federal buildings in 100 cities across the country -- from New York to Los Angeles and Birmingham, Ala. -- on Saturday in pursuit of federal civil rights charges against George Zimmerman, the former Neighborhood Watch guard who was acquitted last week in the murder of Trayvon Martin. The unarmed youth was shot to death by Zimmerman in Sanford, Fla., on Feb. 26, 2012.

Tracy Martin, who said he was overwhelmed by the huge crowd that showed up in Miami, added that he will continue to fight for his son's legacy.
"I vowed to Trayvon when he was laying in his casket, that I would use every ounce of energy in my body to seek justice for him," he said. "I'm going to continue to fight for your sons as well."
In New York City gathering, the Rev. Al Sharpton said he would strive to ensure that an aggressive federal investigation of Zimmerman is conducted. He also said he would wage a vigilant fight against Florida's self-defense laws.

"We are trying to change laws so that this never, ever happens again," said Sharpton.
Closer to home in Baltimore, Jamal Bryant, pastor at the Empowerment Temple in the city's Northwest, contended that Trayvon's civil rights were "interrupted" by Zimmerman.
"It's a civil right to walk on that pavement. It's a civil right to go home, and both of those rights were violated," Bryant told the crowd.
In their show of solidarity, demonstrators in the District of Columbia demanded that the federal government prosecute Zimmerman.

Among those who attended the rally at the federal courthouse in Northwest, were the Rev. Ronald Braxton of Metropolitan AME Church, who led the protesters in the chant, "We have come to stand our ground! We have come to stand our ground!"
Meanwhile, as part of a federal investigation, prosecutors will have to prove that Zimmerman killed Martin out of a sense of racial hatred.

They will also have to present evidence that wasn't brought up during the trial in Florida.