White House Reporter, Helen Thomas, Dies
WI Web Staff | 7/20/2013, 2:32 p.m.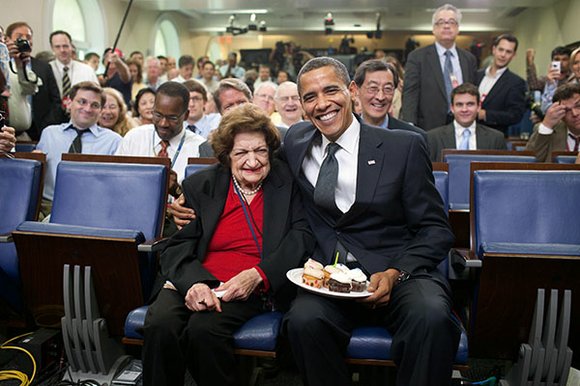 Helen Thomas, the pioneering White House reporter, has died following a lengthy illness. She was 92.
A CNN report described Thomas, who died on Saturday, as a "fixture at White House news conferences -- sitting front and center late in her career -- where she frequently exasperated government spokesmen with her pointed questions."
Thomas, considered the dean of the White House press corps, began a career that spanned five decades, covering the White House for United Press International in 1961 when John F. Kennedy became president. She and eventually became the longest-serving White House journalist until her retirement three years ago.
At the time she was working for media giant Hearst publications as a syndicated columnist. But her career ended under a cloud of controversy after Thomas was criticized for comments she made regarding Jewish people.
In 2010 she said in a video that made it way on to YouTube, that Israel should "get the hell out of Palestine," and that the Jewish people should go home to "Poland, Germany ... and America and everywhere else."
Thomas apologized in writing for her comments. "They do not reflect my heartfelt belief that peace will come to the Middle East only when all parties recognize the need for mutual respect and tolerance," she wrote. "May that day come soon."
A week later, she announced her retirement.