Education Department Hosts 'Let's Read! Let's Move' Series
WI Web Staff | 7/22/2013, 4:24 p.m.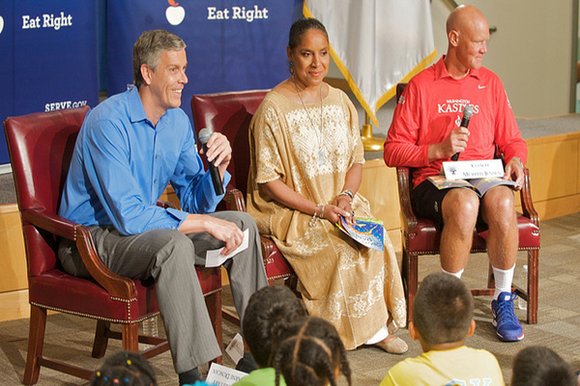 U.S. Secretary of Education Arne Duncan, accompanied by Tony award-winning actress and singer Phylicia Rashad — best known for her role as Claire Huxtable on The Cosby Show — and Murphy Jensen, Washington Kastles World Tennis team coach, hosted the Let's Read! Let's Move! event on July 17 at the Department of Education (DOE) headquarters in D.C.

Following a reading, Rashad and members of the Washington Kastles played tennis with the children on four outdoor courts at the DOE plaza.

Last week's event was the second offered this year. Overall, the gatherings aim to keep children reading, moving and active over the summer months. They also highlight the importance of access to high-quality early learning programs that provide children a strong start on the path to readiness for school.

YMCA of Metropolitan Washington staff also participated this year by leading students in a session of fun, physical activities, which were inspired by Michelle Obama's initiative to promote healthy lifestyles and eating, in an effort to combat childhood obesity.

Additional Let's Read! Let's Move! events are scheduled by DOE for July 24, Aug. 1 and Aug. 6.