Woman Recalls Crash on Bay Bridge
WI Web Staff | 7/22/2013, 4:32 p.m.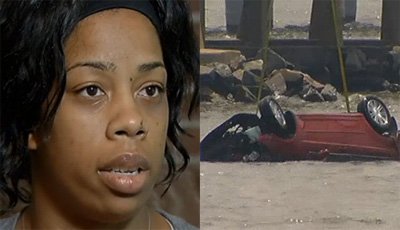 Details of what led to the horrific crash Friday evening on the Bay Bridge in which a car driven by a woman was forced over the bridge, won't be released for weeks, according to Maryland Transportation Authority officials.

Reports state that Morgan Lake, 22, who lives in Sunderland, Md., was driving a 2007 Chrysler Sebring when she was hit around 8 p.m. by a tractor-trailer.

Lake's car plunged into the bay 40 feet below, where swam to some rocks to await help.
Lake was taken to a hospital and has been released.

The truck driver has been identified as Gabor Lavasz of Canada. Neither he nor a couple in another car that was hit were injured.

No charges have been filed.

Lake who is a college student, said in a broadcast interview that she remembered an explosion of glass and an air bag before her car was knocked over the bridge.

"I didn't hit the water immediately -- I was in air, and in the air is when I felt that I was gone," she was quoted as saying. Lake went on to say that once in the water, she realized she was still in her seat belt and that she had been injured. Feeling that she was could drown, Lake said she began swimming.

"All of a sudden I felt I didn't want to drown, didn't want to go out that way," she said.