Arts & Humanities Festival at St. Elizabeths East
Historic Site to Serve as Home to Free, Community Event in DC
WI Web Staff | 7/23/2013, 10:39 a.m.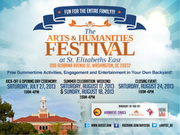 The Humanities Council of Washington, DC and Building Bridges Across the River at THEARC announced the kickoff of the Arts & Humanities Festival at St. Elizabeths East on Saturday, July 27.
Made possible through a grant awarded by the Office of the Deputy Mayor of Planning and Economic Development, the festival will be held over four days, with a culminating event on Saturday, Aug. 24. The festival is free and open to the public.
"The overwhelming support from the community and our partners is paralleled by our ongoing commitment to create platforms to experience the best of Ward 8 and engage its residents to help shape that vision," said Catherine Buell, executive director of St. Elizabeths East.
The heart of the festival is located in the center of one of the District's most prized historic campuses, St. Elizabeths East, in the 1100 block of Alabama Avenue in Southeast.
The East campus will soon be the home of a Gateway Pavilion currently under construction and slated to open in September 2013. The Pavilion will serve as a gateway to the St. Elizabeths East Innovation Hub and will usher in a new chapter of visitors to the campus, including local residents and the 3,700 U.S. Coast Guard employees set to start arriving on the nearby West Campus in August 2013.
The Arts & Humanities Festival is the perfect platform to embrace the changes to the historic campus, while celebrating the District's and Ward 8 community's rich heritage, culture and creativity.
The festival kickoffs on July 27 and will be followed by a summer celebration weekend on Saturday and Sunday, Aug. 17 and 18. A closing event will be held on Saturday, Aug. 24. Each festival day will be held from 11 a.m. to 4 p.m. and feature an exciting scope of activities, live performances, art exhibits, readings and workshops and other exciting activities that will be fun for the entire family.
The July 27 opening ceremony where Mayor Vincent C. Gray will speak at 1:00 p.m.
The line-up for the kick-off Festival include emerging urban vocalist IhsAn Bilal, Rapper, AB The Producer, Anthony Anderson and the cast of Anacostia - The Series, and the East of the River Boys and Girls Steelband. Special narratives provided by noted author, Dr. Courtney Davis, Jay Coleman and master storyteller the Honorable Baba-C, Griot.
For more information on the Arts & Humanities Festival at St. Elizabeths East, please visit www.ahfest.com, or follow onFacebook (www.facebook.com/ahfestdc) and Twitter (@AHFest_DC.)