The Week in Sports: Limitations to be Placed on Beal at Team USA Camp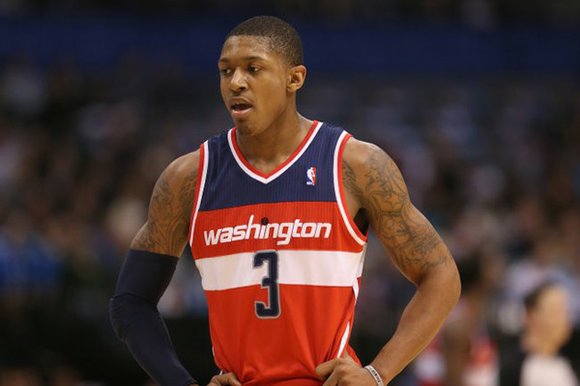 The USA Basketball camp will opened Monday in Las Vegas. However, Wizards guard Bradley Beal won't be a full participant. Beal and teammate John Wall are on the roster for Team USA along with other young NBA stars like Klay Thompson and Kyrie Irving.
Beal remains to be bothered by a stress reaction in his leg that caused a premature end to his rookie season with the Wizards. He plans to play in some drills at the four-day camp, but will not be at full speed.
Baseball
Alex Rodriguez expected to return to lineup this week
Yankees manager Joe Girardi indicated that he fully expects third baseman Alex Rodriguez to be back in the starting lineup this week, in spite of a setback that sent the 38-year-old to a New York hospital on Sunday for an MRI on his injured left quadriceps muscle. In all likelihood, Rodriguez will make his 2013 debut on Tuesday against the Texas Rangers.
In January, Rodriguez had surgery on his left hip and has yet to play this season. His 20-day minor league rehab agreement expired on Sunday, and the Yankees must activate him or place him back on the disabled list. Rodriguez plans to work out on Monday and return to the lineup on Tuesday. It is unclear whether he'll play third or be the designated hitter when he comes back.

Boston's Bailey out for the season after shoulder surgery
Red Sox relief pitcher Andrew Bailey is scheduled to have season-ending right shoulder surgery this week. Bailey's surgery will be performed by Mets team doctor David Altchek on Wednesday in New York. The reliever missed nearly all of the 2012 season following right thumb surgery during spring training.
College Football
ACC finding alignment stability
The Atlantic Coast Conference is nicely settling in to a period of stability. Pittsburgh and Syracuse are in, Notre Dame is partly in, and Louisville will join soon. So now the conference can place its focus on the field and not be as concerned about conference alignment.
The composition of the long-term membership of the ACC is now strong. Primarily because of the new grant-of rights agreement that slowed the realignment process, basically locks in the current members and Louisville until 2027. This will mark the only season of this current configuration because Maryland is leaving next year for the Big Ten. Louisville will replace the Terrapins.