Tiger Woods Comes Up Short in British Open
Mickelson Captures Title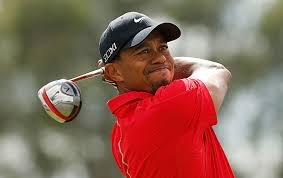 Tiger Woods would win the 2013 British Open. It had been five long years since he won the last of his 14 majors, but his life had settled down, he was again the No. 1 player in the world and he was only two shots off the lead. But on the 18th hole as he tipped his cap to the crowd, the realization sank in that once again Tiger would come close, but he wouldn't win. In fact, he didn't break par.
If not Woods, it would be Adam Scott. He had gotten over the hump at the Masters, winning his first major and he was playing with Woods; it would be an appropriate passing of the torch.
But Scott, after leading on the back nine, encountered a bout of déjà vu, making four straight bogeys to reprise the four he infamously finished with at last year's British Open. Scott didn't win. In fact, he didn't break par.
If not Woods or Scott, then certainly it would be Lee Westwood. After all, he's British. He's yet to win a major, so surely it was his time. Going into the final round, Westwood had a two-shot lead, which was about to become three. But he lost his lead for good just after the turn. Westwood didn't win. In fact, he didn't break par.
When the smoke cleared, the winner was Phil Mickelson. The lefty with four previous major championships to his credit, including three Masters titles, has toiled for years in the shadow of Woods. Interestingly, he has also been the runner-up six times at the U.S. Open, including this year, which sprinkles a flavor of poetic justice over this win.
At the start of the tournament, Mickelson was not one of the favorites to win this competition. He hadn't won a tournament in Europe since 1993 until he won the Scottish open last week. Going into the last round, he was still five shots back.
But as golf enthusiasts know, championship golf really begins on the 10th hole of the final round. As some players surged and others faltered, Mickelson grabbed the tournament with four birdies in the last six holes. It turned the contest into a rout as he took a three-shot lead over second-place-finisher Henrik Stenson. His fourth round 66 was the lowest of the tournament.
Mickelson won. In fact, he was the sole player for the week to break par. He beat the course, then the field. Once again, the winner was the guy who played the best on the back nine on the final day.